WoW
Jul 2, 2018 6:16 pm CT
Surprise! The Group Finder is for finding groups, so Blizzard is banning Group Finder ads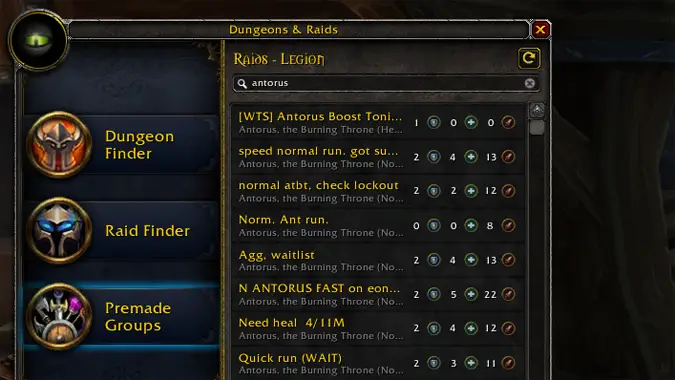 The Group Finder is an incredibly useful tool — you can create a group for just about anything. Want to finish off Antorus? There's definitely a group out there for it. Want help with an elite rare? Yeah, there's probably a group for that, too. Just want to make a group for getting some fishing done? You bet there's a group for that — several, in fact, if you're looking to finish off your Fisherfriend achievement.
But what the Group Finder isn't for is advertising — and unfortunately, there's been a glut of it lately. Players have been creating Group Finder entries that aren't for actual groups at all. Instead, it's just an ad for a boost or a carry, in exchange for in-game gold. The Group Finder is for finding a group, it's not for selling services — and as of today, Blizzard is banning these in-game ads. In Patch 8.0, there will be a new "advertisement" option added to the Group Finder reporting interface, but for now, if you see an ad, you can report it as spam.
As part of our ongoing efforts to crack down on in-game advertising, we'll be implementing some policy changes with how we handle moderation for advertisements made through the in-game Group Finder, and wanted to give you a heads up before these policies are put into place.
Beginning Monday, July 2nd, we will no longer allow any advertisements in the Group Finder for in-game services such as carries or boosts, including those being offered in exchange for in-game gold. The Group Finder is intended for — as the name suggests — finding groups, and these advertisements make it difficult to find active groups that are currently being formed. Additionally, these are often used as a cover for real-money sales, particularly given that in-game gold cannot be transferred cross-realm.
Note that this does not change our policy on selling things such as raid carries for in-game gold. Those are still allowed, but should be advertised through realm-specific methods such as trade chat.
We'll be adding an "advertisement" option to the Group Finder's right-click reporting function with Patch 8.0, but in the meantime, they can be reported using the "spam" option. Thank you for your understanding, and for helping us keep the Group Finder clear of unwanted advertisements.
Initially, this wasn't really a problem with the Group Finder. Players leveling through the expansion's content were using the feature as intended, and you could easily find a group for just about anything under the sun. However, with the onset of the end of Legion, more and more people are offering carries and boosts. I don't really have a problem with that, either — but when it's clogging up a tool designed with another purpose in mind, I can see why Blizzard would want to clean that up.
To be clear, Blizzard isn't shutting down selling boosts or carries for in-game gold. You're still fine to do that for people. What they have a problem with is people using the Group Finder as an advertising tool — that's not what it's intended for. If you'd like to sell carries or boosts, you can still advertise through trade chat, and keep right on helping people out for a price…as long as it isn't real-world money. Selling things in-game for real money has always been a no-no. If you're offering boosts or carries, make sure you're doing so through the proper channels — and if you're purchasing from another player, make sure you're doing so with gold, not cash.