WoW
Jul 17, 2018 10:00 am CT
Hold up! Before you try and log in today, don't forget to fix your addons
Today's the day! Patch 8.0 will be with us shortly — but before you log in, you'll want to take a look at your addons. Battle for Azeroth's pre-patch includes an item squish, loads of class changes, and a variety of tweaks that can and will make your addons absolutely useless if you try to log in without updating. Some errors can be severe enough to lock up or shut down the game before you even get started. That's no good, because there's new stuff to play with!
Most major addons should have updates ready to go — between the beta and the PTR, there was plenty of time to make any changes necessary. There are several programs out there that will update all your addons with the push of a button. Likely the most convenient of these is the Twitch app, which you might recognize if you ever used the Curse app to update back in the day. It's basically Curse with a new face, and it should cover just about every addon you've got.
Keep in mind that not every addon may have an update available, or even require an update at all. You can try enabling older addons by selecting "Load out-of-date addons" on the Addon List interface, which you can access from the login screen. If you're trying this out, I highly suggest only loading one out-of-date addon at a time. If you try loading all of them at once, you might not know which one is throwing you an error message. It just makes it easier to identify and fix the problem, giving you less of a headache to deal with.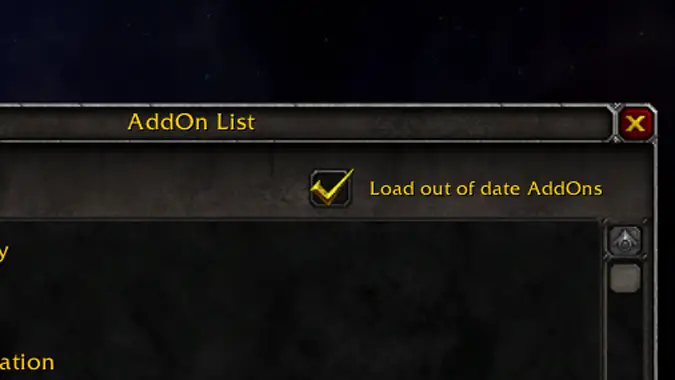 If for some reason one of your favorite addons isn't updated just yet, don't panic. Usually addon updates will be available either the same day as a patch, or within 24-48 hours after it's been released. Yes, it means you'll be without your addon for a little while, but the game will still be perfectly playable without it — if not quite what you're used to. It's also worth it to look up the developer page for the addon and take a look at the notes, and the last update for the addon. Sometimes, people abandon addons. It's sad, but it happens — usually addon developers will leave a note that lets people know if they aren't planning on updating any further.
But hey, while you're going through your addons, it might be worth it to comb through and see what you really need. World of Warcraft is a pretty sizeable monster of a game at this point. You might have some addons crawling around in your folder that you aren't even using anymore — now would be the time to ditch them entirely and clean things out. A little pre-expansion maintenance and cleaning never hurt anyone, right? So get your addons sorted and sit tight — by the time the servers come up, you should be ready to play.