WoW
Aug 13, 2018 12:30 pm CT
Battle for Azeroth launch day is here and there are only a few hours left to make sure you're prepared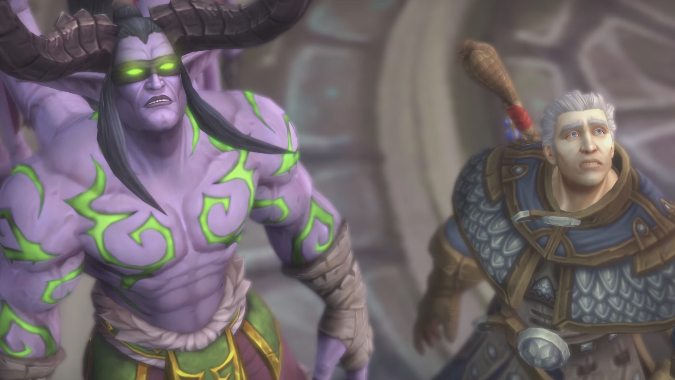 Right now we have just a few hours until the global release of Battle for Azeroth. Battle goes live in all regions at the same time. This means that the launch time you'll be able to play varies on your time zone. The official kick off time is August 13 at 3 p.m. PDT, so plan accordingly. So, what can you do before launch in order to make it as easy as possible for you to start exploring Kul Tiras and Zandalar?
First, make sure you've cleaned out your bags. I know this isn't fun or exciting, but do you really still need six rings from Antorus, the Burning Throne? What about those Sentinax Beacons — are you really going to go back and summon demons while the Blood God G'huun is marshaling his forces? I use expansions as a good time to really get down to just the necessities, condening my gear sets as much as possible. I won't need all nine trinkets that I've been using for Antorus, I pick my favorite couple and bank or vendor the rest.
Having all those free slots in your bags frees you up for what's most important: slaying monsters and taking their stuff. Go through your bank too! You never know what you'll find. I once found a stack of fish food from four expansions ago. Needless to say I'm not allowed back in that particular branch, but the Royal Apothecary society was very interested in it. Anything not soulbound gets sent to an alt, or sold on the Auction House. We're going to be collecting tons of new mats in Battle, so cleaning out that reagent tab is important.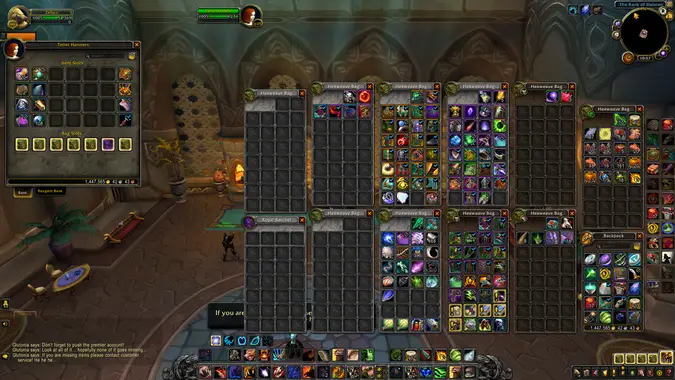 Potions and flasks and gliders, oh my!
Making sure that you're stocked up on consumables is a good way to burn through your materials quickly, and can help make your leveling go faster. Make a couple of stacks of your favorite food. I like the Fishbrul Special because the fireballs are fun. Don't forget to stock up on flasks and potions, and most importantly don't forget to use them. I have a real problem with saving all of my things in video games, just in case. There's going to be all new consumables at max level, so drink up me hearties, yo-ho. Make some Goblin Glider Kits, they're super useful — especially with no flying at launch. Never get stuck on the top of a tower again!
If you've been playing all of Legion then you've probably picked up a few legendary items. Good news, the legendary effects on them will continue to function up until level 116, so it's good to keep a couple of your favorites to wear. Keep in mind that the Heart of Azeroth will go in the neck slot –and Azerite gear is going in the head, chest and shoulder slots– so plan your legendary items accordingly. Be prepared for the rest to sit in your bank looking pretty, or you can put them into void storage. If you really don't want to spend the space on something you know you won't need, they can also be deleted. I'm sure nobody's really going to miss having a couple of legendary rings that won't work anymore.
The last couple of weeks during Legion can feel like there's nothing much to do. I like to try and find groups for some of the more annoying sounding achievements. While we'll be able to come back stronger at level 120, sometimes it's less about the damage that you do, and more about having a bunch of people. When going back to old content it can be hard to wrangle up enough bodies to take care of mechanics — talking about you Only the Penitent. Having the fights fresh in peoples minds can also be a factor. I know that I don't want to think about The Coven of Shivarra for one second longer than necessary, which can lead to some frustrating deaths while you remember all the boss abilities.

Quests both in game and out
Since we're still limited to how many quests we can have in the quest log, I make sure that I clear out anything that I'm unlikely to come back to. This is a bigger factor on alts than on your main, but you probably won't be returning to the raids anytime soon. You can afford to drop the quests that let you skip further in — unless you have progress on them already. Keep those, just in case you want to go back.
It's also a good idea to leave your character in your capital city. That way when 3 p.m. PDT rolls around, you're ready to jump right in. If you can be online before then, it might help to avoid long server queues or authentication bugs. Anything can happen, and Blizzard's never tried the simultaneous roll out before.
Finally, get things ready in real life. Clean the house, do your laundry, take out the litter box. Taking care of household chores beforehand means more time in Azeroth. Do some meal prep, whether it's one large meal with leftovers, or smaller individual meals — you'll appreciate not having to cook when there's Vulpera to befriend. Most importantly, stay hydrated and take small breaks throughout your play session. It's good to stretch your muscles, and water is important! If you've done all of this you'll be able to launch into the new content with clean bags, buffed stats, and a full stomach.