WoW
Aug 13, 2018 10:00 am CT
Looking for a guild? Here's how to find a great group of people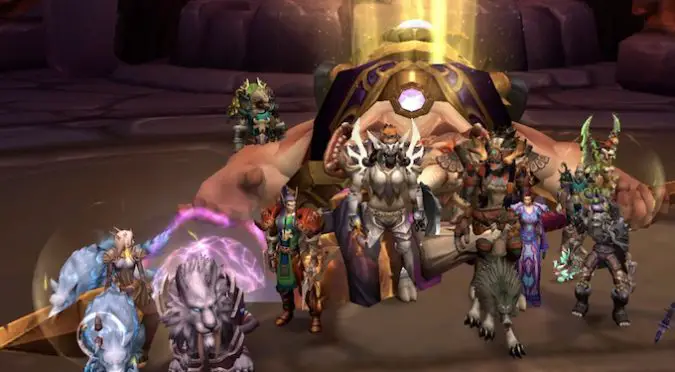 As Battle for Azeroth begins, players will want take advantage of all the new content — and sometimes of that means having a good group of people to play with. For many of us, that means joining a guild, but finding the perfect one can be a daunting process. And it's a process you want to get  reasonably right the first time, because that means less time looking for a group and more time playing in a group (i.e. happier gameplay).
How does a player find a guild? First of all, you need to answer two basic questions.
How much can you play? Do an honest assessment of just how much time you can spend in the game. When can you raid or participate in events? How long can you spend online doing guild things? Guilds may expect you to attend a certain number of events or come to events, and you may need to spend more time collecting consumables or other items to help you play your best. No sense joining a guild that does events if can't participate in them.
What are you looking for from the game? Do you want to raid, run old content, collect achievements, or something completely different? There are guilds available for most every kind of game play — you just need to know what you want to do in the game when you go guild shopping.
Armed with these answers, I recommend you do your research. Yes, this will take time, but the reward is a better game experience with like-minded people. Here's where to start your search.
Check the forums. The Guild Recruitment Forum draws players and guilds from all over WOW. If you have time, read through the pages and pages of recruitment posts — but if you don't, head straight to your realm forum. You'll see, in an instant, which guilds are recruiting. A good guild advertisement post tells you what kind of guild they are, what they do, and what they're looking for in new players. Does it sound like what you want? There should be a contact for more information.
Check the Guild Finder. Open the Guild and Community panel (J) and click the Guild Finder tab. There are a few checkboxes to click to narrow down the list of guilds, then you can view descriptions of matching guilds. But you may want to do more research, as there aren't enough ways for guilds to differentiate themselves. A casual guild and hard-core guild may both raid, but they're two very different experiences.
Now that you have a list, it's time to winnow it down.
Look up guilds on the Armory. Go to the World of Warcraft webpage, click the search box in the upper right, and type in the guild name you're interested in. Check out their achievements. Browse the news to see what's happening — and how recently it's happened. But I wouldn't shy away from a brand new guild, either, because all guilds were new once. It depends upon what you're looking for.
Head to Google and search for them. Seriously. If they have a web site, go there. Poke around. Is the web site up t0 date? Does the guild do things you'd like to participate in? You should be able to determine if what you see online is what you'd like.
Talk to the GM. If you still have questions, send an in-game letter to the guild master. I like answering questions about my guild, and I'd rather you ask me a bunch of questions than have you guess about whether my guild is the guild for you.
If you decide to apply, follow the instructions. That seems obvious, but I've had people get to the letter stage and then expect I'll invite right away. No. We have an application process for a reason. If the guild you want to join has one, follow it.
Now, if this is more work than you want to do, there are easier methods of finding a guild… though you won't know exactly what you're getting into.
Watch General chat. Hang out in any major city and read recruiting texts in General or Trade chat. Good recruiting statements tell you a bit about the guild, such as raid times, casual/hard core/family friendly, etc. These texts come with a toon name to whisper for more information or an invitation.
Ask your groupmates. If you join a group with the LFG tool and like how the group went, ask if anyone in the group has a guild that's recruiting. Be advised that people often don't always want to chat when they are in a group, so don't take it seriously if people don't talk. You're more likely to get a response if more than half of the group is from the same guild — they'll probably be amenable to talking about their guild. Make a note of the guild name and search for them later. If you contact the guild's officers to ask about joining, let them know you were in a group with some of their players and had fun!
Ask your Community. If you're in any Communities, you could find a guild with similar interests right there. Ask if any guilds are accepting new members.
One thing to keep in mind, you may find your "ideal" guild is on a server where you'll need to spend money to transfer your characters, and only you can decide if it's worth it. I recommend making a low level toon on that server, join the guild, and see if it's just what you want. Then you can spend the money, or wait for a sale, to move your toons.
Your time is precious so you want to make a good choice about what guild to join. You can find a good guild with any of these methods, but doing more research up-front can reduce your hopping around because your new guild isn't what you expected. Even with the new Community feature, guilds are still the best way to see and do all and be home by supper.