Raise your hand if you've been experiencing transmog anxiety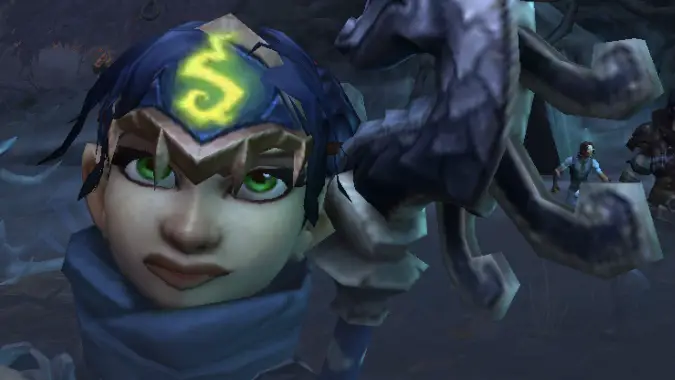 This is my character. You're probably wondering how I got here and why I'm wearing this stupid thing on my head. Or maybe why I'm carrying that poorly-textured staff. Whatever questionable fashion choice you're wondering about, I'm right there with you.
That thing on my head is the Helm of the Mountain Recluse. I like its dusty blue and bronze color, and the glowing sigil is pretty neato. What I don't like is the fact that it crops into my hair like crazy. I think it looks okay with a dark hair color, because you don't notice the cropping as much… but it doesn't look okay when you zoom in like this. When you examine things too closely, the look goes from awesome to oh, no, your hair looks super tangled, let me go get the scissors. So of course that was what I was wearing when I hit a cutscene towards the end of Drustvar. As the camera zoomed in towards my character's disgruntled expression, I cringed. This was my one chance to capture this heroic moment, but I'd chosen the wrong transmog.
Transmog Cutscene Anxiety: A new phenomenon where one is compelled to maintain their mog at all times in case a cutscene fires. See: #BFA

— Terran Gregory 💙 (@TerranGregory) August 15, 2018
I love how many little cutscenes we get with our characters in Battle for Azeroth — but they also make me anxious. When my character gets a starring role in a cutscene, I want to look like the demon-killing, witch-murdering hero that I am. But what if I've just equipped a new piece of gear? Or made a questionable transmog choice that I didn't realize was quite that questionable?When I grab a gear upgrade, my first thought is "are the extra stats worth it if I wind up looking stupid in a cutscene?" (The answer, for the record, is no.) And this is especially problematic for me, as my perpetually broke self does not own a transmog yak (much less a transmog brontosaurus). If I grab a new piece of gear, it's staying in my bags until I hit a major city.
It seems kind of sad, this bizarre virtual vanity, but I just want to look as awesome as I feel. I have to be ready for my close-up, which means my transmog game has to be on point all the time. Is that really too much to ask? (Probably not, as long as I'm willing to trek to the nearest transmog vendor regularly.)
But I have to ask, my fellow transmog junkies, just how are you dealing with your transmog anxiety?