WoW
Aug 17, 2018 10:00 am CT
A roundup of the actors behind the fantastic voice work of Battle for Azeroth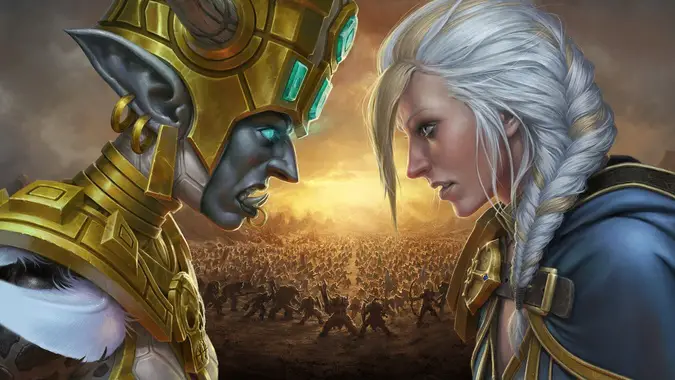 Great voice acting can elevate the game it's in to new heights. This is a lesson that has been learned through and through in the games industry, and it's a lesson Blizzard has clearly learned. This is displayed more obviously than ever before in Battle for Azeroth. With each successive expansion, we're getting more and more voiced characters in bigger roles. Even better, many of the new amazing characters are women, and it's great to see them in such great roles taking charge of the story and kicking ass. Recently, many folks at Blizzard have revealed just who the people are behind some of our favorite new voices.
Working with Adam Chapman, they found actors from all across the U.K. to voice roles and give it that authentic local feel — where possible. I don't think they managed to find anyone actually from Zandalar to do a character. Close to 60% of the voices are from the U.K. in Battle! There have been a bunch of times while questing that I've said, "I know that voice, who are you?" only to realize that it's someone like Christopher Judge! But like I said, there are a lot of new voices on the scene. Let's go over some, shall we?

For the Alliance
On the Alliance side of things, Indira Varma voices Katherine Proudmoore. Her casting was a closely held secret for the launch and wound up being a fun little surprise. She is only one of several Game of Thrones actors to pop up in Kul Tiras; you also have Daelin Proudmoore being voiced by Mark Addy, Taelia by Ellie Kendrick, and Marten Webb by John Bradley West. These characters fit right at home with all of the political intrigue running rampant around Tiragarde.
Meanwhile, returning superstar Laura Bailey not only voices present-day Jaina, but also her younger self. Her range is astounding — if you told me that was her, I wouldn't have believed you! Jaina has finally gotten the focus that she deserves as a character, and Laura makes every moment count.
In Drustvar you can find a quest chain that leads to a very special tea party… if you can master your fear that is. The host of that tea party is a little girl named Abby, and she was voiced by Grace Saif, in a chilling performance that's sure to make you leave the lights on. Don't worry, Horde players, you can still come to the tea party! Abby isn't picky. Meanwhile back in Tiragarde Sound, you can hang out with your best new scoundrel friend, Flynn! Brought to life by Henry Lloyd-Hughes, who you might remember from Dragon Age: Inquisition, he quickly steals the show — and your heart.

Horde of characters
On the Zandalar side of things, you're going to run into everyone from ancient gods to revolutionary fighters to kings and princesses. Stealing the show you have Bwonsamdi, the Loa of Death. You first meet him in the jungles of Nazmir, but he's not stuck there. Bwonsamdi replaces all of the spirit healers across both Zandalar and Kul Tiras, and he's always ready with a joke about how you wound up dead. Alex Desert gives him a playfulness and menace that really makes him a star.
On the royal side of things, Princess Talanji of the Zandalar is brought to life by Susan Wokoma, the star of the Netflix show Crazyhead. Fun fact: On Crazyhead, she also shares the screen with another Blizzard star, Cara Theobold, A.K.A. Tracer. Talanji is a force to be reckoned with, making sure that you get to the bottom of what exactly is happening in Zuldazar.
When you take a trip to Vol'dun you'll soon meet a bunch of the Vulpera, the new race that everyone is hoping will be the next to join their faction. Meerah is a wagon driver who sings a lovely little song to her two llama: Dolly and Dot. While the Zandalari you're travelling with don't appreciate it, I thought it was quite charming. Thanks to Deva Marie — who voiced Addie Fizzlebog in Legion — for making her such a fun and memorable character!
It's not all desert vacations though — when you're ready to take the fight to the Alliance you'll be working closely with Nathanos Blightcaller. Jim Pirri manages to make him ooze condescension and menace with every line. Fitting for someone who also voices of the Raven Lord in Heroes of the Storm. He's not the only character with a foot in multiple Blizzard games, though — Lucie Pohl hangs up her staff and wings for a decidedly greener turn as Rixxa Fluxflame. Goblins never Die!
Behind the scenes, a staggering amount of work is done in casting and directing by people like Andrea Toyias, Terran Gregory, Steve Danuser, and countless more. They all deserve a big round of applause for all the work they've done in bringing these characters to life. And I've only scratched the surface here! With each new quest and dungeon, there's more and more great voices. Keep an ear out while you're adventuring — you never know who you might meet!