The Overwatch Busan map easter eggs let Reinhardt sing and more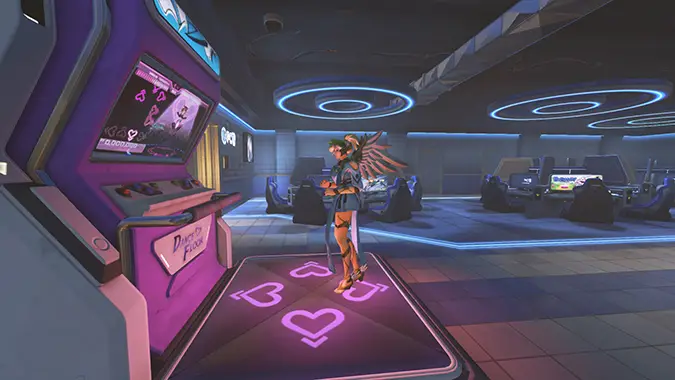 Like with any new Overwatch map, Busan has a set of easter eggs that Blizzard tucked into it, including one that lets Reinhardt sing karaoke.
It didn't take long for players to discover the hidden bits inside of the three locations in the new Busan control map on the PTR. If you pick Reinhardt in the karaoke spawn room on the Downtown map, you can interact with the microphone. If you do, as demonstrated in the video below, Reinhardt sings some tunes.
https://twitter.com/bonniequeue/status/1032223588617609216
One of them involves him repeatedly singing "sexy, sexy Reinhardt" so of course someone made a music video. Basically, expect to have a lot of Reinhardts on your teams when this map goes live. Everyone will want to hear him take over the microphone. Let's hope that other characters will also be able to give it a shot. I would like to see Sombra sing, wouldn't you?
On the other side of the same map, players can spawn into a room with a dance machine that you can stand on. If you just jump around on it, nothing particularly interesting happens, but if you use one of the Anniversary event's dance emotes, you'll achieve a high score. Check out this Tracer nailing all of the moves.
YOU CAN ACTUALLY PLAY DANCE FLOOR LMAO pic.twitter.com/bjWk2EI0zl

— Jeffrey Tsang (@blaseOW) August 22, 2018
It's a neat touch that rewards anyone that got the chance to pick up the emotes. If you haven't, you'll have to wait until next year.
There's a lot more stuff in the new map that we saw, like D.Va's home base. Her room, complete with a gamer chair, curved monitor, and leftover noodle cups, is in there as well as all of the mechs that her teammates use. The map is so full of detail, especially when it comes to learning more about everyone's favorite Meka pilot.
The new map should launch in the next major patch. It'll be interesting to see if they add anything else to it before it goes live. They've teased future releases in new maps before, so it's possible that yet another new hero could be teased. We'll keep an eye out! And if you want to check out Busan for yourself, hit up the Overwatch PTR.