Here's what to expect from this weekend's Overwatch League All-Star matches
Updated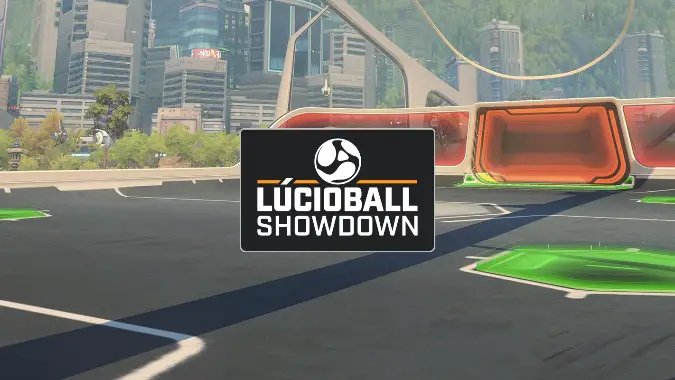 The OWL All-Star Weekend is almost here! In it, two 18-player teams of fan-favorite players will represent the Atlantic and Pacific divisions in a series of show matches. The games start on Saturday August 25 at 4PM with a day of custom matches, including:
Lucioball Showdown
| | |
| --- | --- |
| ATLANTIC | PACIFIC |
| Meko, NYE | Geguri, SHD |
| Ark, NYE | Fate, VAL |
| Poko, PHI | Fissure, SEO |
Mystery Heroes
| | |
| --- | --- |
| ATLANTIC | PACIFIC |
| Libero, NYE | Kariv, VAL |
| Mano, NYE | Ryujehong, SEO |
| Muma, HOU | Zunba, SEO |
| Gesture, LON | Bischu, GLA |
| Fury, LON | Custa, VAL |
| Bdosin, LON | Space, VAL |
Widowmaker 1v1 Challenge
| | |
| --- | --- |
| ATLANTIC | PACIFIC |
| Pine, NYE | Soon, VAL |
| Carpe, PHI | Surefour, GLA |
| Striker, BOS | Fleta, SEO |
| Sayaplayer, FLA | Architect, SFS |
Talent Takedown
| | |
| --- | --- |
| ATLANTIC | PACIFIC |
| Josh "Sideshow" Wilkinson | Jonathan "Reinforce" Larsson |
| Matt "Mr X" Morello | Christopher "MonteCristo" Mykles |
| Mitch "Uber" Leslie | Auguste "Semmler" Massonnat |
| Alex "Goldenboy" Mendez | Robert "Hexagrams" Kirkbride |
| Erik "DoA" Lonnquist | Soe "Soembie" Gschwind-Penski |
| Brennon "Bren" Hook | Chris "Puckett" Puckett |
| Malik Forté | Alberto "Crumbz" Rengifo |
Lockout Elimination
| | |
| --- | --- |
| ATLANTIC | PACIFIC |
| Saebyeolbe, NYE | Sleepy, SFS |
| Profit, LON | Agilities, VAL |
| Gamsu, BOS | Kariv, VAL |
| Poko, PHI | BigGoose, GLA |
| Ark, NYE | Mickie, DAL |
| Jjonak, NYE | OGE, DAL |
I'm interested in seeing the teams play Mystery Heroes. It's a bonkers mode, and one that can and will just give one team three Bastions and a Mercy. How do professional players react to such unfair odds? And that's not to mention the tension that will be in the Widowmaker 1v1 battles. Usually a Widowmaker duel, while fun to watch, isn't the entire point of the game — there's also five other heroes making calls and pressuring the enemy team. Now imagine Fleta simply staring down Pine on the game's Castillo map. It's going to be an amazing thing to watch.
On August 26 at 11AM PDT, the proper All-Star game begins with a full five-map match and a requirement that all players on each team compete in at least one map. The starting lineup was selected by the fans, with the reserves decided on by coaches and staff. Here's who will be representing each division:
Atlantic Division
Hyeon-Sang "Pavane" Yoo—Excelsior
Starting: Seong-Hyun "Jjonak" Bang—Excelsior, support
Starting: Jong-Ryeol "Saebyeolbe" Park—Excelsior, DPS
Starting: Do-Hyeon "Pine" Kim—Excelsior, flex
Starting: Yeon-Jun "Ark" Hong—Excelsior, support
Starting: Jae-Hyeok "Carpe" Lee—Fusion, DPS
Starting: Jae-Hui "Gesture" Hong—Spitfire, tank
Hae-Seong "Libero" Kim—Excelsior, DPS
Nam-Ju "STRIKER" Gwon—Uprising, DPS
Jeong-Woo "Sayaplayer" Ha—Mayhem, DPS
Seung-Tae "Bdosin" Choi—Spitfire, support
Se-Hyun "Neko" Park—Uprising, support
Dong-Gyu "Mano" Kim—Excelsior, tank
Tae-Hong "Meko" Kim—Excelsior, tank
Austin "Muma" Wilmot—Outlaws, tank
Young-Jin "Gamsu" Noh—Uprising, tank
Jun-Ho "Fury" Kim—Spitfire, flex
Gael "Poko" Gouzerch—Fusion, flex
Jun-Young " Profit" Park—Spitfire, DPS
Pacific Division
Coach: Byung-Chul "Moon" Moon—Valiant
Starting: Chan-Hyung "Fissure" Baek—Dynasty, tank
Starting: Scott "Custa" Kennedy—Valiant, support
Starting: Se-Yeon "Geguri" Kim—Dragons, tank
Starting: Byung-Sun "Fleta" Kim—Dynasty, DPS
Starting: Je-Hong "Ryujehong" Ryu—Dynasty, support
Starting: Young-Seo "Kariv" Park—Valiant, support
Minho "Architect" Park—Shock, DPS
Terence "SoOn" Tarlier—Valiant, DPS
Brady "Agilities" Girardi—Valiant, DPS
Lane "Surefour" Roberts—Gladiators, DPS
Young-Seo "Kariv" Park—Valiant, support
Benjamin "BigGoose" Isohanni—Gladiators, support
Nikola "Sleepy" Andrews—Shock, support
Pan-Seung "Fate" Koo—Valiant, tank
Minseok "OGE" Son—Fuel, tank
Indy "Space" Halpern—Valiant, flex
Joon-Hyeok "Zunba" Kim—Dynasty, flex
Pongphop "Mickie" Rattanasangchod—Fuel, flex
Aaron "Bischu" Kim—Gladiators, flex
There have been a couple of substitutions since the original lineup was announced. Ji-hyeok "Birdring" Kim was set to play for the Atlantic team due to a wrist injury, but will be replaced by Joon-yeong "Profit" Park. The recently retired Brandon "Seagull" Larned has also dropped out, replaced by both Young-Seo "Kariv" Park and Aaron "Bischu" Kim.
If you're just interested in getting your hands on those legendary Tracer and Genji skins, they're available for 200 OWL tokens. They're only available for a limited time, however — they'll go away on August 27, so make sure to grab them while you can.
Matches are this Saturday (4PM PDT) and Sunday (11AM PDT), and you can watch live on Twitch.