Collect another fantastic D.Va skin with the Overwatch Nano Cola Challenge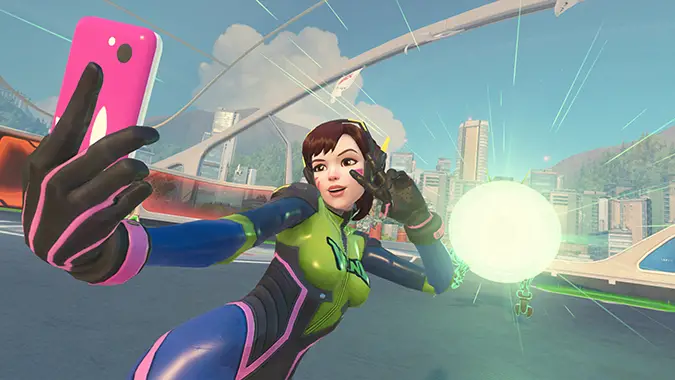 D.Va has some of the best skins in Overwatch and she just got another one that you can earn for a limited time. The Nano skin is the reward for winning nine Quick Play, Arcade, or Competitive games in total during the Nano Cola Challenge, which lasts until September 10.
The skin was originally shown at the end of the Shooting Star D.Va cinematic, and you can see it in the new Busan map. As a skin, its got a mixture of bright green and blue, along with Nano Cola branding on the Meka and D.Va's suit. She also has a pony tail that doesn't behave well with one of the highlight intros. but maybe that'll get fixed at some point.
There's way more rewards than the skin though. At three and six wins you will earn two sprays and an icon. One of the sprays features D.Va holding out a can of Nano Cola in a pose that's taken straight from Korean celebrity culture. In addition to the in-game challenge, you can earn a series of adorable sprays from watching specific Twitch streams for a total of eight hours. The list of streamers is available on the Overwatch website — just make sure you have your Battle.net account linked to your Twitch account to actually earn the sprays.
The Nano skin marks the third recent legendary-level skin for D.Va in a short period of time. She has fantastic skins like the Year of the Rooster Palanquin skin or the latest Waveracer skin, but this one is perfectly specific to her character in the story. Now that we know D.Va is more worried about the safety of her country rather than the celebrity persona that the general populace sees her as, it gives the skin some weight while you're wearing it in game. I'd like to see a prototype Meka suit for her next or something that goes even further into her personality since we get so little opportunities to learn more about her.
We made great progress in the Nano Cola Challenge on our Twitch stream earlier this week!