Patch 8.1 is getting two new raids, and one features the first ever faction-based approach to raid design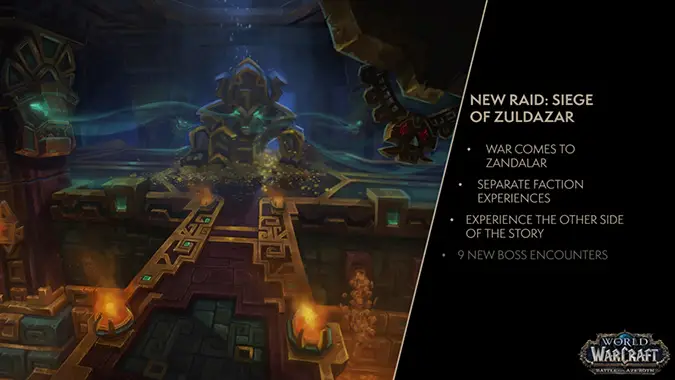 In today's World of Warcraft livestream, Game Director Ion Hazzikostas revealed the plans for upcoming raid content in patch 8.1 — turns out, we're getting not one but two raids!
Arriving first is the Siege of Zuldazar (though that name may not be final). It's a nine-boss raid taking place around the city of Dazar'alor in the Zuldazar zone. The Alliance War Campaign has progressed to a point where they're ready to make a preemptive strike against the Horde. They'll be launching their attack from Zuldazar Harbor and fighting up to the top of the city to attack King Rastakhan at the seat of his power. While the Alliance is assaulting the city, Horde forces will be fighting through the jungles north of the city, coming to reinforce the defenses and send the Alliance back to Kul Tiras. For Horde, it all culminates in a fight "on the high seas" against none other than Jaina herself.
I don't imagine that this is the end for Jaina — she has too many tricks up her sleeves. Who knows about King Rastakhan's deal with Bwonsamdi, though. The Loa of Death seems like a capricious sort and not one to tolerate weakness.
This raid marks the first time ever Horde and Alliance each have separate paths through a raid. Each faction gets a different raid experience and fights different bosses — at first. Ion assuaged any fears about missing out on any of the fights just because you're a different faction. After you've done your first six bosses, the raid will return to Zuldazar or Boralus, and you'll "hear the other side of the story" from scouts who were there to see the whole thing. In other words, you'll relive the other faction's experience firsthand.
Personally, I love this idea! Each faction gets to feel like the great big heroes that they are, and we still get all the same content. This will avoid some of the complaints we saw from older raids like Siege of Orgrimmar, where both factions experienced virtually the same content (give or take a hallway). It felt weird at the end for the Alliance to just leave the city as is, and there certainly could've been a way for Horde forces to avoid the General Nazgrim fight. Like, say hearing about it later from an Orc Peon that was hiding in the corner of the room hoping nobody would notice him.

But wait, there's more!
After we've had time to sink our teeth into the Siege of Zuldazar, there'll be a new two-boss raid in Stormsong — The Crucible of Storms. This is a heavily Old God-influenced raid that dives into the storylines that Alliance players experienced in Stormsong. Questlines involving Naga invasions and World Quests will help fill in the story, which will help avoid another situation where one faction doesn't have any idea whats happening in the raid. We don't know much about this raid yet, but it sounds like we'll definitely get some hints about what Queen Azshara has been up to.
If you're a raider, it seems like you won't be lacking for new bosses to tackle in the months ahead. There's no firm release date yet, but 8.1 arrives on the PTR later this week. The raid release schedule in Legion felt like a good pace, and Ion made a point to say as much. Once again, Blizzard is making sure that we're not spending too much time in any one raid and that we have a steady stream of content all expansion long.