Now that we have a lot more bag space, what are you using Void Storage for?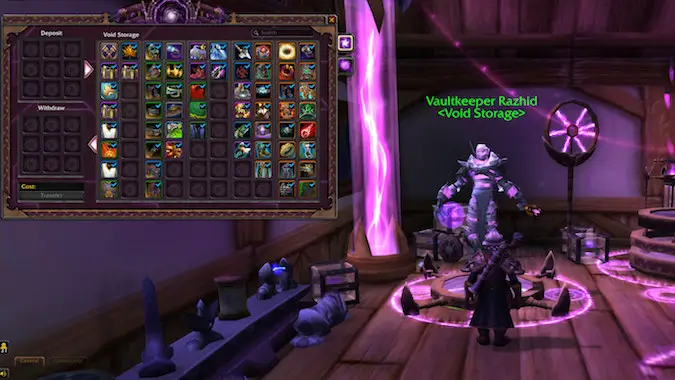 With the arrival of Battle for Azeroth, I think one of the questions on nearly every player's mind was, "Will there be a bigger bag?" This is tough to admit, but… I'm a pack rat. There, I said it. I keep things because they have meaning. I can't use the Mallet of Zul'Farrak, but I worked very hard to get that back during Classic WoW, and I'm not going to sell it. I have weapons which guild members made for me. Yes, they are part of my transmog system, but guild members took the time to make them and surprise me with them. They have meaning.
With the transmog system — and especially the Wardrobe — I don't have to keep bags of gear anymore. I don't have to, but I do because when Burning Crusades Timewalking occurs, I like to wear my Beast Lord set and carry my Gyro-Balanced Khorium Destroyer. I have Burning Crusades-specific gems, enchants, and a scope.
When Void Storage was introduced in patch 4.3, man, I filled it up. Never mind that when you put something in Void Storage, it removes the gemming and enchanting. I had PVP gear. I had Burning Crusade, Wrath of the Lich King, and Cataclysm gear. I had trinkets. It was the bag I didn't have to carry around. And then we got transmog. It took me 4 hours to clean out Void Storage and all my bags. "Don't need this. Don't need that."
But I still keep things.
Right now, all the legendary gear from Legion, save for weapons, is in Void Storage. I also have tabards I'm not quite sure can be obtained again if I were to sell or delete them. I have a set of gear I like the looks of. I could sell it because it's in transmog, but…I spent a lot of time getting the full set. I have trinkets with crazy procs. I have shirts and gear which is not going to show up in my transmog list because it's not mail — but it's cool looking! I have books. I still only have about a handful of empty spaces in my bank, and the new 30-slot bags are, for me, an "Oh well, that's nice," rather than an upgrade of any sort.
Why the long post about transmog? You can thank a frantic search through all of my bags and my Void Storage for one trinket I knew I had — at least, I thought I did. I found it. It wasn't where I thought I'd put it. As I stood in Stormwind, combing storage, I wondered, are you still using yours? If so, what do you have in it? If not, did you ever use it, or have you never used it? And, if you're not currently using it, I doff my helmet in your general direction. I don't know how you can sell some of this stuff. It's so cool! (I think it will go in my bank, maybe?)