WoW
Sep 24, 2018 11:00 am CT
Paladin kills Vectis in less than 1 second, proves Paladins still best at decimating bosses with clever use of game mechanics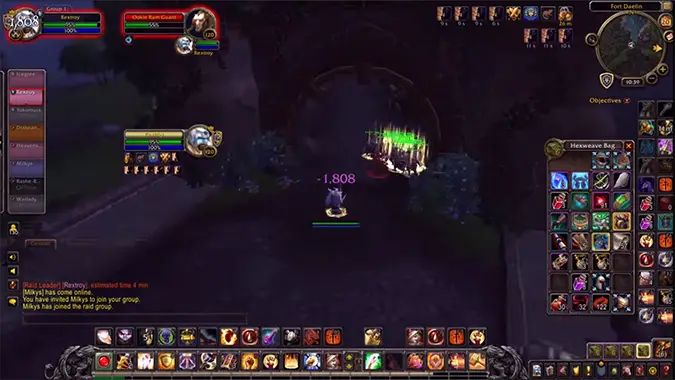 Paladin Rextroy has done it again: They figured out how to solo kill yet another Uldir boss. This time it's Vectis. This is the same Paladin that managed to use a bunch of maggots and a now-nerfed talent to help them solo MOTHER last week week.
This time, Rextroy employed a similar concept of abusing the game's mechanics in separate places of the world and transferring them directly into the raid. It involves another specific enemy, and its interaction with Fort Daelin guards. As with last time, anyone looking to do this themselves are out of luck: Rextroy reported this to Blizzard before even uploading the video and it's already been fixed.
We'll break down how it works below, but I'd recommend watching Rextroy's video to see how it all comes together:
Rextroy grabbed the Ookin Rum Guard from Stormsong Valley and brought it to Fort Daelin just north of its location. The Battalion Guards in Fort Daelin can't inflict damage to the monkey below 85 percent health, which means unless Rextroy or another player harms it, it can't be killed. Combine that with the guards' stacking Motivating Cry buff that gives 50% increased damage to nearby players and you've got a recipe for massive damage output.
All Rextroy had to do was pull the monkey around, gain a ton of those buffs, and then get summoned to Uldir with as much increased damage as possible to wipe out Vectis. It took no longer than half a second to down a boss that would take minutes for any full raid team. You can see them spawn into the raid and decimate the boss instantly — it's short enough that you'll probably end up re-watching the kill shot so you can process what's just happened.
Rextroy notes in the video description that there were issues of the loading screen taking too long to get into the raid, sacrificing precious damage buffs, as well as weird issues of being phased out of the correct shard. "Each time it took about 15 minutes to gather the guards, if nothing went wrong," Rextroy wrote. "However it usually did."
Rextroy has some brilliant ideas, and I'm kind of curious if they have more up their sleeves when it comes to soloing another boss through strange means. I'm sure we'll find out soon enough — even if whatever trick Rextroy uses next will have already been nerfed by the time we do.