WoW
Oct 12, 2018 10:00 am CT
It's over 7,000. The 9th Annual Running of the Gnomes is this weekend!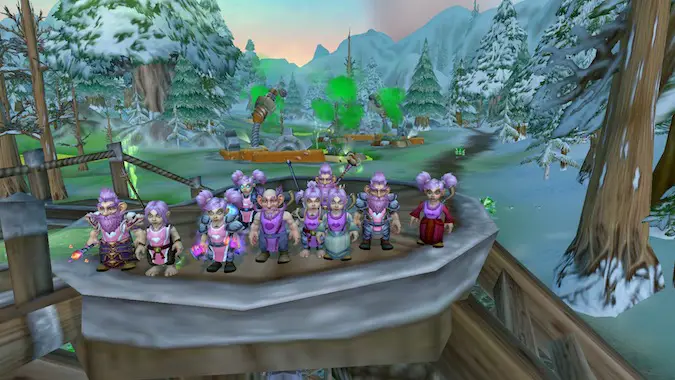 It's that time again! The 9th Annual Running of the Gnomes on Scarlet Crusade server is almost here. On Saturday, October 13th, beginning at 4 p.m. PDT, 7 p.m. EDT, thousands of low-level pink-haired Gnomes will wind their way from Gnomeregan to Booty Bay — for charity.
This fundraiser benefits the Cleveland Clinic's Tuohy Vaccine which can prevent Triple-Negative Breast Cancer. This kind of breast cancer is hereditary and is the most deadly form of the disease. The vaccine is in stage 1 clinical trials and results are encouraging, so why not roll a Gnome to help raise money and awareness?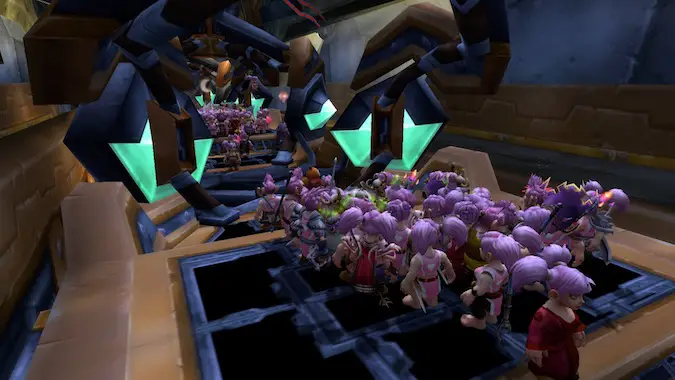 Here's how to participate
Step 1 – Make yourself a pink-haired Gnome on Scarlet Crusade or Feathermoon servers. I recommend doing this now. Note: There are no cross-realm invites for this event, so you must be on either Scarlet Crusade or Feathermoon to participate.
Step 2 – Log in at least an hour in advance of the 4 pm PDT / 7 pm EDT start time and look for the guilds inviting members. So far, 11 different guilds will be accepting requests to join. You should see guilds asking you to join, and when you do just whisper the person inviting, type "INVITE" and their auto invite will get you into their guild. This helps the organizers track how many gnomes run. It also allows organizers to give out instructions and prevents you from being scammed by someone seeking donations but who isn't affiliated with the run. (Sigh. It's sad this has to be considered.) If you want to be sure you're joining an official guild, check Dravvie's list.
Step 3 – When the pack starts moving, start running. Be patient. In 2016, we crashed the server just as my guild and I passed Fort Livingston. Two dozen Gnomes all started running in place, which was was hilarious, actually. There's bound to be lag in some places. Set your graphics to low. You'll be following the pack anyway so you don't need a lot of resolution to do this. Also, don't be one of "those people" who shows up with a mount. This is a run, not a ride! It's more fun to run to Booty Bay than ride.
Don't worry about being eaten by a wolf in Duskwood or a basilisk in Cape of Stranglethorn. High-level Gnomes will be spotters along the route and will take care of any offending wildlife. It's actually kind of fun to swarm some level 12 mob with 10 level 1-5 gnomes. You're almost always guaranteed a hit. You can get from level 1 to level 3 just with exploration experience.
Even if you don't currently play World of Warcraft, or have friends who don't play but who want to participate, you can use the trial account and make a Gnome for this event. Trial accounts can't join a guild, but there are ways the organizers have of counting those people who want to participate but won't be continuing to play WoW afterwards.
How can I donate?
If you want to do more than participate, you can donate directly to the Cleveland Clinic or you can buy a t-shirt designed by @Noxychu. All monies from sales go towards the vaccine.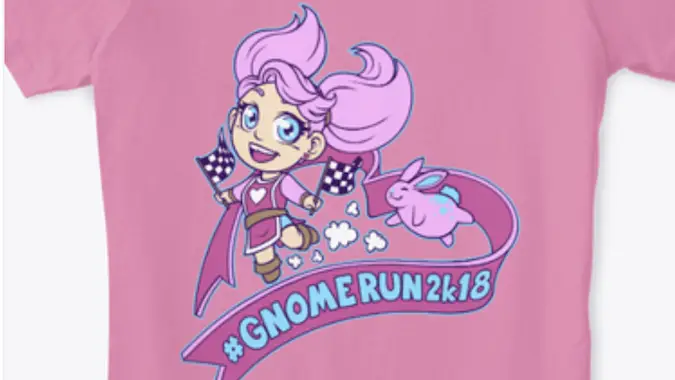 There are light pink and dark pink tees, a purple tee, and stickers. In addition to tee shirts, there is a hoodie, tank tops, and a version for kids. The whole family can be adorned in support of this great cause. Last year, over $16,000 was raised and certainly we can top that this year.
Additional information
There is a Discord channel for more information on race day, and the #GnomeRun2k18 hashtag on social media is the place to publicize your participation (or see what other racers are up to).
Why Gnomes? They are the only race which can sport pink hair. Plus, organizers like the representation of something "small" banding together to create something big. October is Breast Cancer Awareness month. Everyone can be affected by this cancer, and you may have a relative, co-worker, friend, guildmate, or neighbor who has battled this disease. Having thousands of Gnomes run down half a continent (and more, but I'm getting to that part), raises awareness not just for breast cancer but other forms of cancer.
Plus Gnomes look so cute when they go places in packs.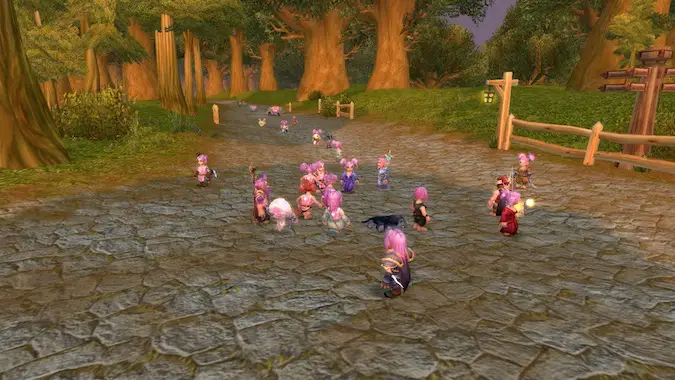 Finally, an afterparty
Oh yes. Blow the smoke off your running shoes because you aren't done once you get to Booty Bay. The lag is incredible. It's like playing WoW via postcard. But thousands of Gnomes in one space is an incredible sight.  After forming a pink ribbon in the harbor — or trying to, since it can be difficult to get everyone moving at the same time — you board the boat and head to Ratchett. From there, you'll join the group as we run to Orgrimmar to give out licks and kisses to the Horde leader. This year, Lady Sylvanas Windrunner will be on the receiving end.
My guild does this every year. We have so much fun. If you haven't done it, please consider attending. And if you have any questions, I haven't covered, you can reach organizer Dravvie on either Twitter or Tumblr. See you tomorrow outside Gnomeregon!