The latest Overwatch PTR hints at a new hero for BlizzCon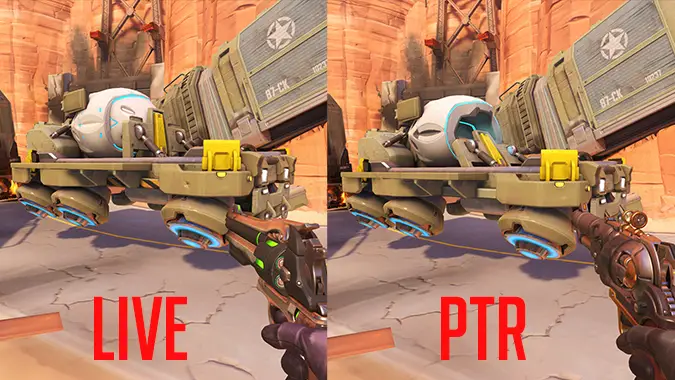 Even though we're not getting a new Overwatch map reveal at BlizzCon this year, it seems likely that we're going to hear all about a new hero.
The latest Overwatch PTR patch went live this week with a series of changes to heroes like Mercy and Symmetra. But there was another change that wasn't mentioned in the Developer Update video for it: the payload on the Route 66 map has changed.
The payload sits in a map saddled with heaps of Deadlock Gang information and spoils. This is where the infamous crew — that once had McCree as a member — planned to destroy a bridge and steal something significant from the U.S. government. The end of the map is full of rockets and weapons, but the payload seems to hold some kind of weapon or bomb that we transport inside as players. On the PTR, whatever was inside the capsule has been taken.
The last time we had a payload change we got two new heroes. The Numbani payload that housed the Doomfist gauntlet was shattered and it wasn't long until we heard about Orisa and then Doomfist himself. It seems likely we're going to get an announcement at BlizzCon about a new hero that has an interest in or is possibly powered by whatever the Route 66 payload contained.
YouTuber Master Ian Gamer points out that the container on the payload looks very similar to D.Va's Meka and could contain something similar to the self-destructing core that we most recently saw in the Shooting Star short. Other internet sleuths think it might be connected to all of the stuff that's going on in Ilios. In the Halloween Terror 2018 patch, Widowmaker has a new voice line about taking an "eventful" vacation to the Ilios, and some have suspected that is how she got a hold of the statue in the Chateau Guillard map. Others wonder if it's about the datamined voice lines about destroying an objective that could mean a new mode is coming.
Either way, there's a whole ton of theories floating around, but all of them suggest that we'll get someone new to play in the game very soon.
BlizzCon is less than a week away, so we won't have to wait long to find out.