And the award for best dungeon goes to…?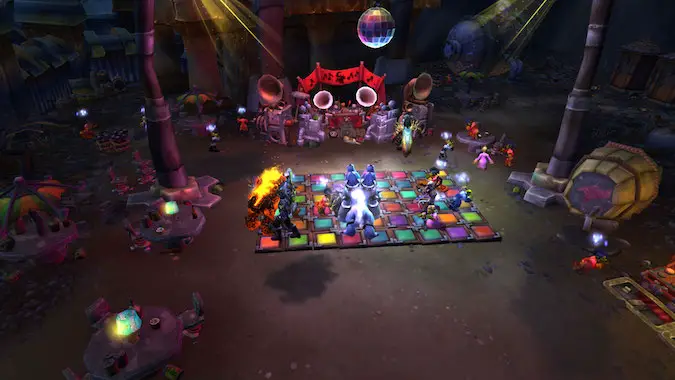 Because there are so many pathways to obtaining decent gear, I haven't been as diligent in running dungeons as I have been in previous expansions. I just did MOTHERLODE, and aside from all the trash getting to each boss, I thoroughly enjoyed it. There's so much to see and it reflects on the Goblin starting zone and Silvershard Mines. Look! Flamingos! Pool toys! A dance floor with disco ball!
With the arrival of the Classic demo, I have been reminiscing about all the dungeons I have been in since I started playing. Each expansion had one specific dungeon which I thoroughly enjoyed and quite a few for which there is no love lost. Remember when you had to be within 5 levels of the dungeon to summon someone via the summoning stone? If you were getting a run via a high level, that person had to run to the dungeon and they couldn't use the stone. I didn't realize this until a couple of us were going to get a run through Scarlet Monastery and the two level 60's running us through had to run from Chillwind Point to the dungeon. I liked old Scarlet Monastery with its four wings.
I think, if I had to pick a dungeon in Classic, I'd go with old Scholomance. I worked so hard to get the trinket which lets you see the spirits in town. (I still have it.) It was just a fun dungeon — long but fun. Remind me some day, to tell you about the Mage and Rattlegore. That's an epic story.
Along the way, in expansions since, I've liked Botanica, Utegard Pinnacle, Grim Batol, Mogu'shan Palace, Grimrail Depot, and, most recently, Halls of Valor. Yes, I liked Halls of Valor. I know a lot of people didn't. I'm not sure if I have an overall dungeon that I like the best. There are some I won't be sad to never step into again, but these are ones I do happily.
How about you? Do you have a favorite dungeon from the expansions you've been in? Do you have an overall favorite dungeon? I don't particularly have an overall most hated dungeon but perhaps you do. What is it? Finally, how do you think Battle for Azeroth dungeons stack up when compared to dungeons in previous expansions. I haven't done all of them, but I'm finding the ones I have done to be quite fascinating.