WoW
Nov 3, 2018 5:22 pm CT
WoW Classic — What's changed and what remains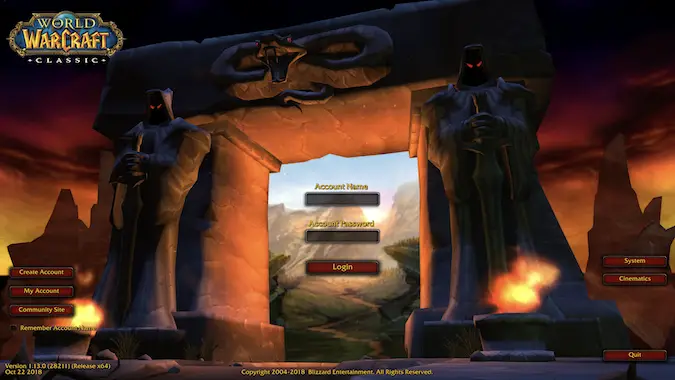 If you're wondering about WoW Classic as an experience — specifically, if you're wondering what's changed between then and now, and what will be different in WoW Classic as compared and contrasted to the game as it was when patch 1.12 came out — the Restoring History: Creating WoW Classic answered a lot of those kind of questions.
Ion Hazzikostas went into a great deal of detail on what they're bringing back from the old days and what they're not going to replicate. There were obvious things that WoW Classic won't have from the modern game, of course — there will be no LFD or Raid or Dungeon Finder, no instant mail to guild mates, no linked auction houses. Absolutely no flying of any kind. No achievements, no cross-realm play, no Real ID or battletags of any sort.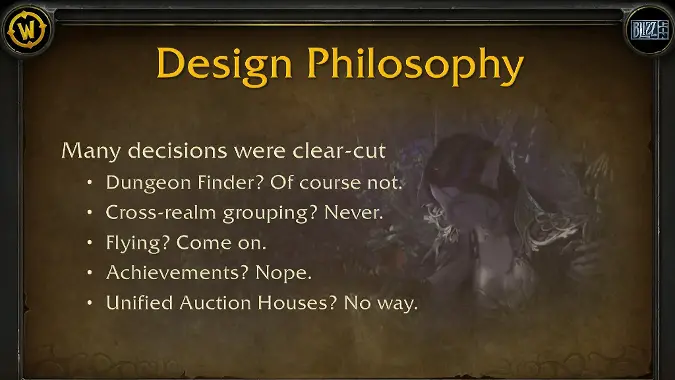 There will also be changes that were purely from a technical limitation that don't have to be there, but which will be preserved to maintain the authenticity of WoW Classic — for example, Rogues will regenerate energy in large chunks instead of on a point by point basis, there will be a 16 debuff upper limit that means once someone applies the 17th debuff to a target one of those sixteen will fall off. The goal was, in all cases, to keep the classic experience alive — instead of mailing materials to a guildmate and almost immediately getting a crafted item back, you may well prefer to travel to wherever that guildmate is and hand them the materials instead.
In short, even if it wasn't the actual design but just a technical limit back then that no longer exists, they're keeping it in for authenticity. Debuff limits, mail delivery subsystems, Auction Houses will have all of the limits they had back then even if that's not what the game was intended to do because that's what it actually did. Weapon skill, Crushing Blows and Defense are all back. Hunter pets will need to be fed or they will lose happiness and could even run away from you, and you will need ammo for your bow or gun.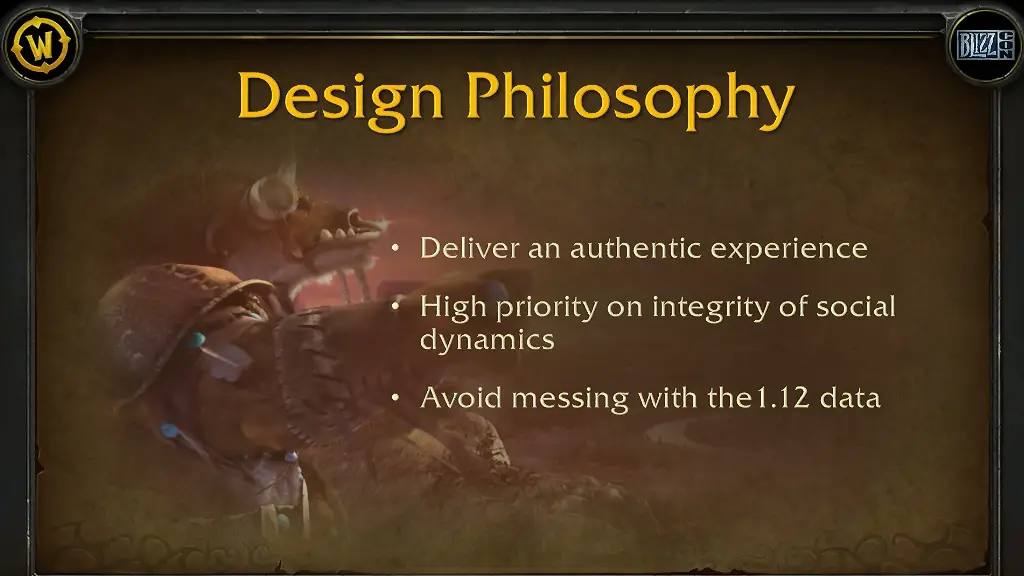 The one big unknown is addons. Back in Vanilla WoW, addons could automate a great deal more than they can now, and a modern addons author could likely write addons that effectively made WoW Classic playable with a lot fewer button presses, reducing the difficulty of the experience well below what it actually was back then. But modern addons have the ability to create big social communication options that would essentially recreate things like Dungeon Finder which is also not something the devs want to interfere with the authenticity of the experience. At present, they expect that they'll allow most addons of the kind that worked back then in, but they'll definitely be considering how to keep too much automation from wrecking the experience.
A few modern conveniences are making the cut, however. You're able to move items from your mail to your bags in a far more fluid manner, because it's not really going to affect game balance. Similarly, while you're not going to get personal loot — the old loot systems will be returning, but you will still be able to trade items with other players who killed a boss you did. The reason for this is because back in the old days, the only way to pass a mislooted item was to file a ticket with a CM, and they simply feel like leaving in the trade option frees up their CM's to focus on other issues in the game. However, for the most part, if it happened after 2006? It's not in WoW Classic.