Jeff Kaplan introduces us to hero Ashe in new Overwatch developer update as she goes live on PTR
Click here for more photos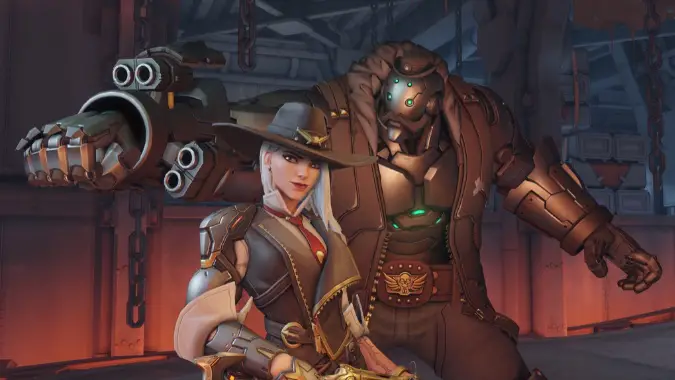 Well, that didn't take long. The newly announced Overwatch hero, Ashe, is already on the PTR. (Check out the gallery of skins and poses below.) She has a number of unique abilities that Game Director Jeff Kaplan explains in a new developer update video.
He goes through the modes of her semi-automatic rifle, Viper, (reduced accuracy, reduced damage left-click attack and scoped-in high accuracy, high damage right-click attack) as well as her ranged dynamite attack that applies a damage over time effect. Plus, there's her coach gun that can either knock away those in front of her and propel her backwards or be aimed at the ground to give her a jumping ability. And, of course, her offense-oriented ultimate, B.O.B., who is like an extra character in the game that can be nano boosted or slept.
If you want to read about Ashe's abilities, you can always check out Ashe's hero page on the official Overwatch site. There's also the Overwatch What's Next panel from BlizzCon where the devs talk about her development. Or if you want to see her in action, the Overwatch team has you covered in the video below.
We also sat down with two members of the Overwatch team during BlizzCon to learn more about how Ashe was created. Spoiler: She was first created just to be a character in the 'Reunion' cinematic, but the dev team loved her and B.O.B. so much, they made them into playable heroes. And if you somehow missed it, check out that cinematic below along with a second cinematic about her origins that Jeff Kaplan mentions in his video.
Now get yourselves to the Overwatch PTR for a rootin', tootin' good ti–ok, I'll see myself out now. (But check out Ashe's fan art gallery before you go!)