Overwatch Interview with Blizzard: Ashe lore, B.O.B. love, and the importance of funny hats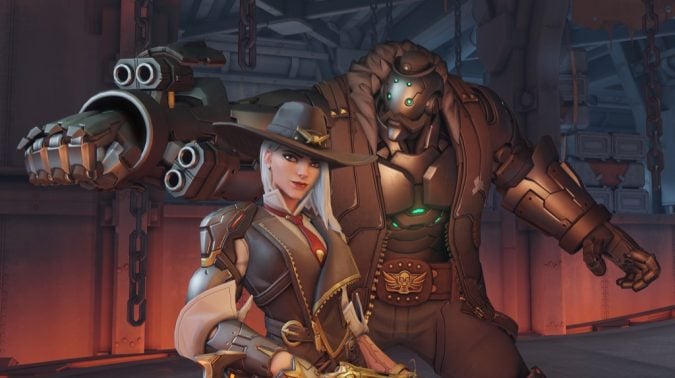 I sat down with Lead Writer Michael Chu and Lead Character Artist Renaud Galand from the Overwatch team to talk about the newly announced hero, Ashe. Just a few hours earlier in the day we were wowed with the Overwatch 'Reunion' cinematic introducing the gunslinger with a past connection to McCree and her faithful omnic sidekick, B.O.B. We also got a look at her abilities in a separate cinematic.
Now we learn more about who the 29th hero is and how she fits into the Overwatch universe.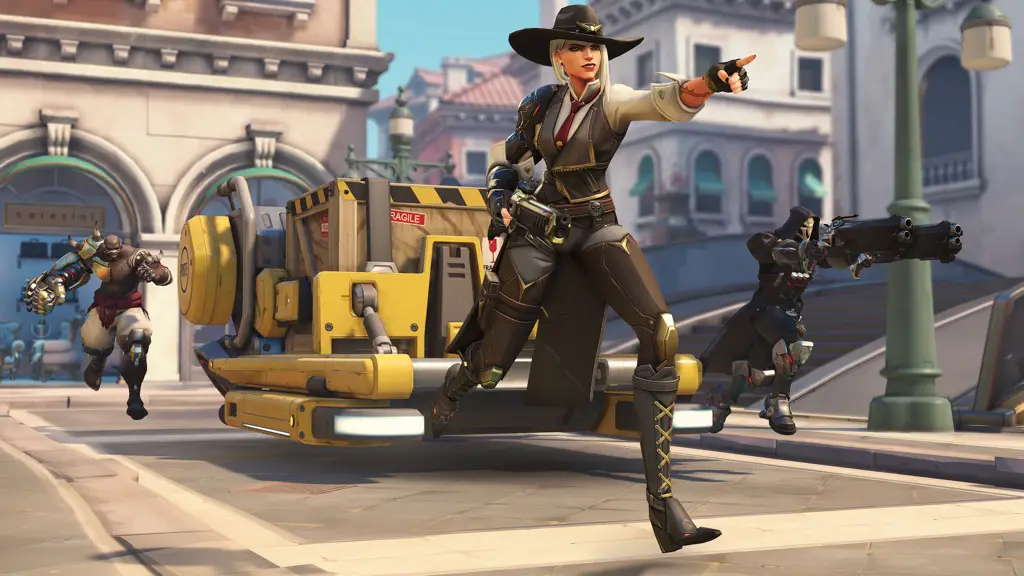 Q: What was the inspiration for Ashe?
RG: Inspiration can come from anywhere. A design need. A sketch. A corner of a napkin, sometimes. This time it came from a desire to explore more of the backstory of the characters. The cinematic team came to us with the story of exploring the gang that McCree is from. And Ashe happened to be a member of this gang, the leader in this case, and that's how it really came about.
We all fell in love with her. We were working on other prototypes, you know, and we were like 'oh my god, she is so strong and so amazing, we should totally try to give it a shot and try to make her a hero.'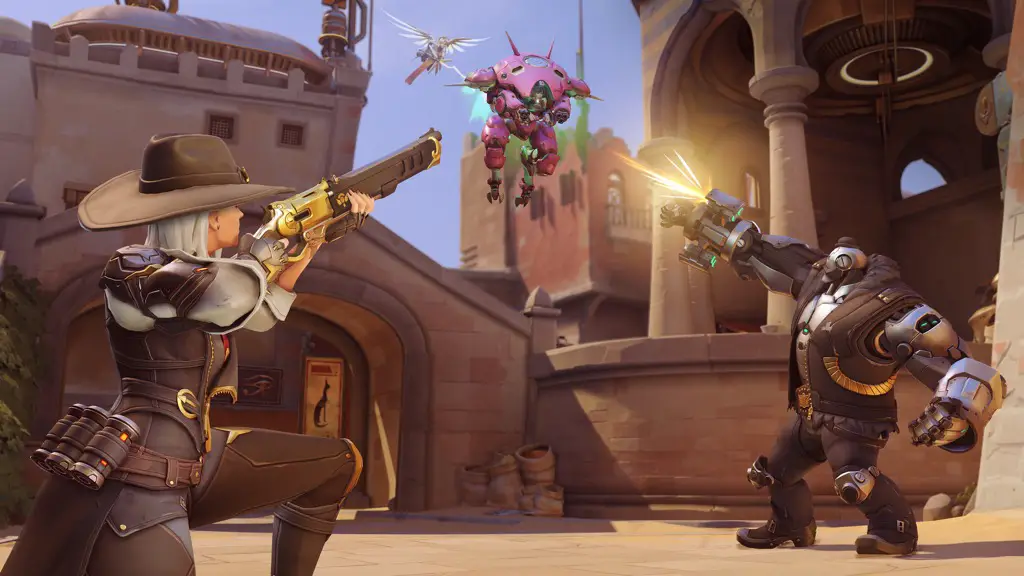 MC: She was created in a unique way, but all these heroes go through a process of where the idea of the hero has to fit in to the overall Overwatch universe. For her, in particular, it was the process of figuring out how she fit into the 'Reunion' piece. How do we get her into the overall universe and make it feel good. There is a particular challenge to which you have an iconic character like McCree who has already laid claim to the cowboy aesthetic so it was very important that we make Ashe stand out. Not like, 'oh, she's the female cowboy.' So we went with the biker gang and we wanted to push that aspect. Her story isn't just a tributary off of McCree's.
McCree has such an interesting story. He's a kid that ran with the Deadlock Gang. Then he was in Black Watch and after that all this stuff happens. I felt like what we hadn't explored is that the Deadlock Gang is this thing and McCree had involvement in it, but he never struck me as like, 'I want to run this gang and be this amazing criminal.' I feel like he is more like a passive 'sure, we can do this.' It became clear that Ashe really drove that aspect of the gang. And that's where her character really came out of.
RG: And B.O.B.
MC: We all love B.O.B. Honorary hero 29.5.
RG: I remember when we were envisioning Ashe we were debating 'should we have B.O.B. as a hero? He is so amazing.'
MC: It wasn't a long debate. I joke that B.O.B. is hero 29.5 because he was that much of a challenge, but he functions like another temporary character in the game.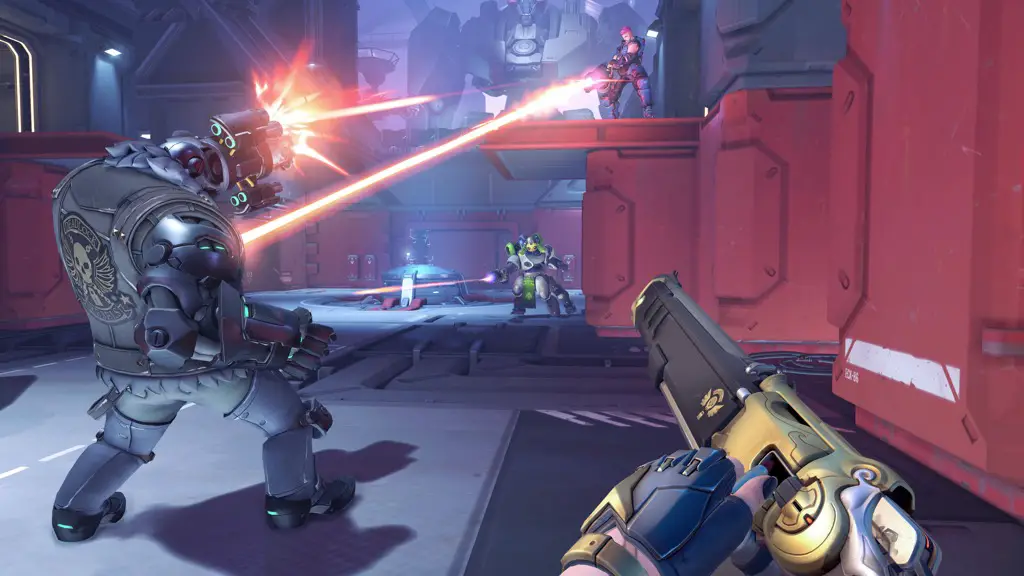 Q: Is the obsession with B.O.B. surprising to you?
RG: No, I started the petition to get B.O.B. in the game!
Q: Are we going to see more stories about Ashe outside the game?
MC: I hope so. I don't want to get myself in trouble. We'll definitely be building out the Deadlock Gang especially now that we have two heroes that are tied into it. I think it will be really fun to do. Maybe discover who the other two mysterious founding members of the Deadlock Gang were and explore McCree and Ashe's relationship over the years would be really cool to get into.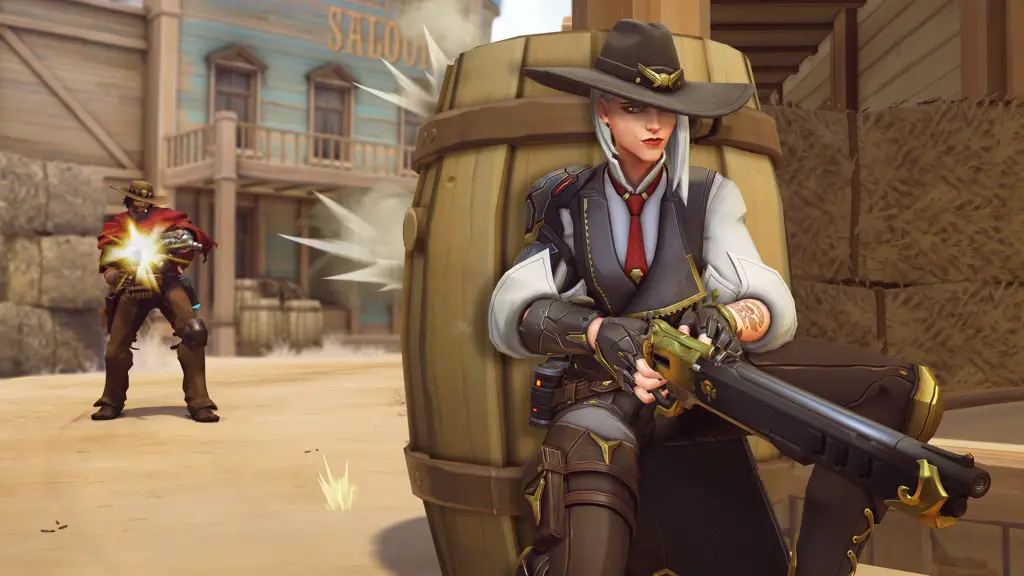 Q: Ashe had a picture of her and McCree on her motorcycle.
MC – If I had to describe their relationship I would say 'complicated.' But then I realize that immediately connotates the status of their relationship, but it's way more complicated than that. We are interested in so many parts of the relationship. We think the idea of Ashe is this extremely ambitious person and McCree is more like this easy-go 'ok, this sounds cool, I'll go along with it.' I think there are so many different aspects to it.
They start the Deadlock Gang and are together for a couple of years doing crimes and heists and everything. And then McCree's career — ha, career — goes in an entirely different direction. The Deadlock Gang isn't cool with McCree being like 'I'm part of the covert part of Overwatch.' I think there's a lot of complicated intersection between those characters.
Q: How long has Ashe been in development?
MC: Ideas about the Deadlock Game have been going on for a little bit longer, but we didn't really delve into it — well, a little bit with Route 66. We did an update to the map where we put everything in place to work with 'Reunion.' A lot of those elements have been there for a long time. We always knew in the payload in Route 66 there is a crazy robot named Echo. This is one of those things where we never know when a story element will be activated. We have been waiting all these years. So it's fun when you get an opportunity to get into with a new hero and a new movie. We really starting diving into Ashe's backstory when we started working on 'Reunion.'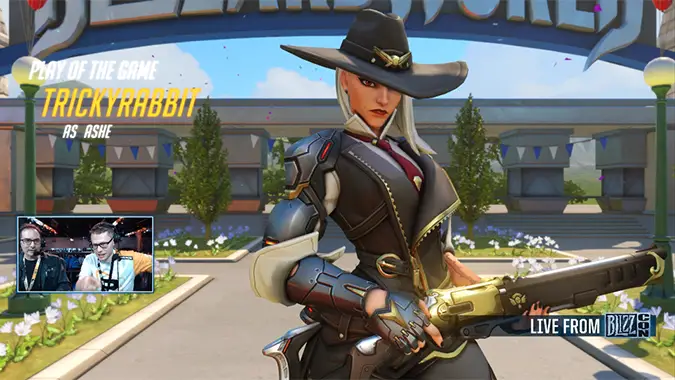 Q: What made Ashe the clear choice for the next hero to be introduced?
MC: We pay attention to the cadence of hero releases and there have been a lot of ability based heroes lately, so we wanted to introduce one that was all about her weapon, like Pharah.
Q: How many different kinds of hats are you designing for B.O.B.?
MC: When we were on the panel I saw the slides again and saw just how many different kinds of hats we have created for Ashe. I feel like there is a lot of material there to mine.
RG: We are going to have a lot of fun with hats for both of them. We talked to animators to make sure we could change the shape of the hats. Because McCree has the hat tip animation, we can be creative, but we have to keep the shape of the hat. We are going to have a lot of hats for both of them.
Q: The timeline doesn't seem to be progressing very much. Are we going to get stories that take place after 'Recall'?
MC: We have a little bit at the end of this story that pushes past 'Recall.' Definitely we are planning to do more. We will probably be doing a mix though because when we introduce a new hero we have to tell the backstory.
Bonus Easter Egg: The name Renaud may sound familiar. It's the name of a restaurant on the Hollywood map named after him!
Disclaimer: I tried to transcribe this as spoken, but had to paraphrase a few sentences for clarity. Don't take direct quotes as gospel!