News
Nov 20, 2018 10:00 am CT
Blizzard's Black Friday sales will devour your wallet with savings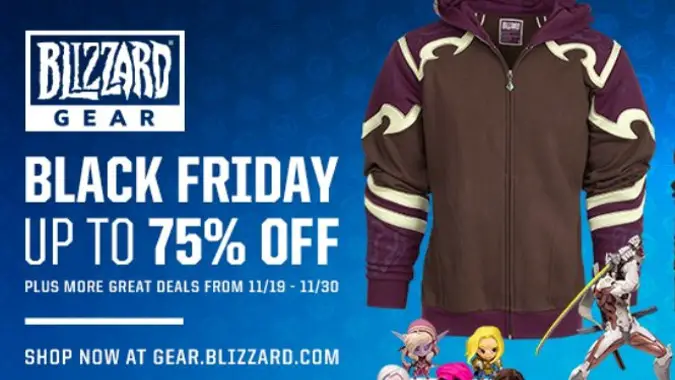 Whenever I hear the term 'Black Friday' my imagination goes less to 'a really big sale' and more to 'the dread times are nigh' but apparently that's not what's going on. Instead, what's going on is that pretty much everybody is having a sale on the day after Thanksgiving, and this year that includes Blizzard's gear store.
Cheers, love! Great deals are here!

Starting NOW snag your favorite Overwatch gear as we approach Black Friday and Cyber Monday discounts on the #BlizzardGear store!

🔎 https://t.co/6O9rTXRwFp pic.twitter.com/MWcC88LWB1

— Overwatch (@PlayOverwatch) November 19, 2018
If you head on over to Blizzard's electronic shop and click Black Friday at the top you can perambulate, albeit in a digital fashion, through the savings on offer — and all it will cost you is your soul!
I'm being informed that it won't cost you your soul. Nope, apparently they just want money, same as the rest of the year. Even for this Tracer Figma, which is half off its usual price. I know, I'm surprised too. But yes, instead of a dark ritual to bring the Star Devourer to Earth and blot out the sky in eternal blackness, what we've got are savings — savings that range between 30% off, to 50% off, to even 75% off in some cases. So it's still madness, just less let loose the destroyer trapped forever in the heart of the Earth and more jeez, you can get an Overwatch League bomber jacket for US $25.

I think you have to admit that's a pretty good deal. Your planet doesn't get invaded by the fetid ones and you can pick up that Overwatch League hoodie or a really nice Heroes of the Storm long-sleeved Henley that I'd honestly kind of like, if you're wondering what to get me for my birthday. It's coming up soon. As in December 7th. I'm just saying.
There are Tyrande dresses, Sylvanas dresses, a nice Alliance dress — sorry Horde, I guess your dress sold out already. You can get these Armor Leggings to stay Horde, a lovely StarCraft shirt — again, think of my birthday — as well as a fleece sweater, a Diablo desk mat to go with the desk I don't actually have but I still want that mat, some Overwatch Nendoroid figures like Mei, Genji, Mercy and Tracer and a lot more. Just head on over to the Blizzard Gear Store yourself and check it out. And feel secure that Ulash-Tor will remain trapped in the Nevertomb for another year.