The Queue: Team Salsa cheated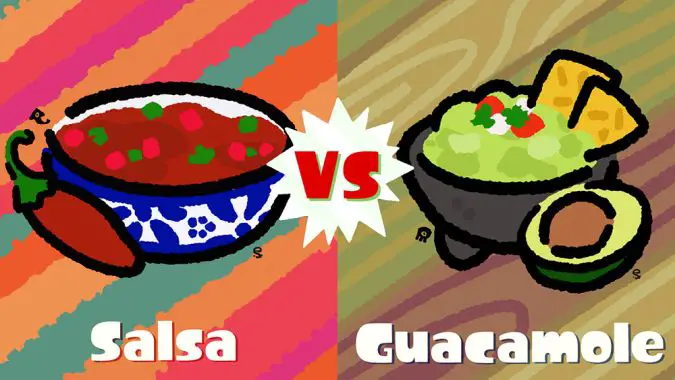 I don't know what Team Salsa did to win 3-0, but it couldn't have been fair. This may have been my most successful Splatfest and somehow, it's one of the worst losses? No way. They cheated.
Anyhow, why not nom on some of the right choice — guacamole (preferably spicy/oniony) — while we Queue?
---
HUSSKIES, THIS IS ABOUT NEITHER SALSA NOR GUAC:
Q4TQ: If a bowl of chili had a human brain, would it be able to sing?
Yes. The real question is where it would be singing from.
---
HUSSKIES HAS ANOTHER QUESTION, ALSO NOT ABOUT SALSA OR GUAC:
(The following question is shamelessly inspired from the recent FFXIV "controversy")
Q4TQ: If WoW decided to put in a new class in the game, preferably a cool long-awaited class like Tinker, but decided to make the class very powerful and much different from any other existing classes in the game BUT this new class has a level cap making it impossible to play it in current high-end content like raids and mythics +, how would you feel about it?
In this case, you have to ask yourself what unique content would this new class be getting, once you get past the new abilities. Most likely, a new intro experience and some cool story stuff. In that case, I think I would rather Blizzard put resources into making that story content into available to every player.
Doing outdated content with new abilities is only interesting for so long — and with the amount of work Blizzard puts into endgame stuff, why take that out of the equation for anyone?
---
OMEDON, I CAN ONLY SPECULATE:
Q4tQ: How much of the "initial state makes community angry, community gives feedback, changes get community praise and hype" cycle do you think is actually live and actual adaptation on blizzard's part, and how much is a pre-planned embracing of the PTR and dataminimg news cycle?
There are crazy people who thought "old soldier" was written and created in response to fan backlash instead of completed a year or more ago and just strategically doled out to stoke predictable reactions. That is an obvious, extreme example, but how deep does that rabbit hole go? There are obvious logistical adaptations that say to me that the devs know "of course they'll hate the mega RNG of this but we can't give them the BIS in the first month because subs," and I could even believe that we were always being set up to laud blizzard for giving us story choices after hating certain quests' first draft. Class tweaks like numbers tuning, sure that's live… but beyond that? I'm not so sure any more.
I can only speculate here, but I think if you see Blizzard actually talk about changes — Ion on the upcoming Azerite adjustments, Island Expedition rewards, for example — I think those are things Blizzard has actually changed in response to players. But if players cry out and it's changed one PTR build later without any mention on Blizzard's part? That was probably pre-planned.
Now, there are some smaller things that they may have changed in response to players and still not talked about. For example, post-transformation Tyrande just got 1,000% more badass in a recent build. But even that is still up for debate.
I guess my TL;DR here is that I think Blizzard has a lot more planned out than players think. But it's nice to feel like we're smarter and think further ahead than they do sometimes, right?
---
MISTAH JAY IS QUESTION 4 THIS TIME:
2AlliedRacesEnter: Blackrock Orcs vs Dark Iron Dwarves
I may be Horde, but the Dark Iron have beers. They win.
---
SCOTT LEYES, HOW MANY HEROES ARE WE TALKING HERE?
What are the musical tastes of the WoW heroes?
Sylvanas: Grateful Dead
Anduin: NSYNC
Thrall: Used to like metal, now listens to Light Jazz Sax
Anduin (I know you said him but whatever): Pop-punk most of the time, My Chemical Romance when he thinks about his dad, um… exploding.
Greymane: Wolfmother
Nathanos: Classical symphonies
Jaina: Literally anything but the Frozen soundtrack
Baine: Poison (Get it? Because of Cairne? lol)
Malfurion: Nickelback
---
LOTHARFOX, DON'T FORCE IT, MAN:
Am I alone in finding pallies boring? With the XP buff, I thought I'd level my pally. I got from 110 (2/3 the way through the level) to 112. Then thought, "I'll level my warlock." I leveled my warlock from 110 (no XP at all) to 114, getting half way through the level. At that point, I ran out of rested XP. I thought, "I guess it's time to level the pally again…" and then I played HearthStone for an hour. I don't want to level the pally because…I don't know. It has all the tools one could want in a tank, but it is just so boring to play, and I enjoy tank spec more than Ret.
No, you're not the only one. I don't hate them, mind you — they've definitely gotten infinitely better than they were a decade a go. But if you don't like a class, don't play it! No harm in that.
---
ARTHONOS, I WISH THIS WOULD HAPPEN TO ME :(…
Q4tQ: Let's say you get an invite to Thanksgiving from N'Zoth. What dish do you bring?
Souls.
---
SPENCER MORGAN, I DO WANT TO FIGHT, YES:
Reposting these for the Mitch Queue. You get stale questions Mitch! Big whoop, wanna fight about it?
2BE: Warhammer vs Warcraft edition:
Vlad von Carstein vs Sylvanas Windrunner
Malekith vs Nathanos Blightcaller
Grimgor Ironhide vs Thrall
Durthu vs Lor'themar
Orion vs Baine Bloodhoof
Gotrek Gurnisson vs Saurfang.
I haven't played Warhammer, so I don't know any of these things. HA! Take that!
That's it for today, y'all! I know it's Tuesday, but remember, Americans — if Thanksgiving is as chaotic as it is in stereotypes, you always have The Queue.