Heroes of the Storm knows what you want under the tree this Winter Veil: toy-themed skins!
Click here for more photos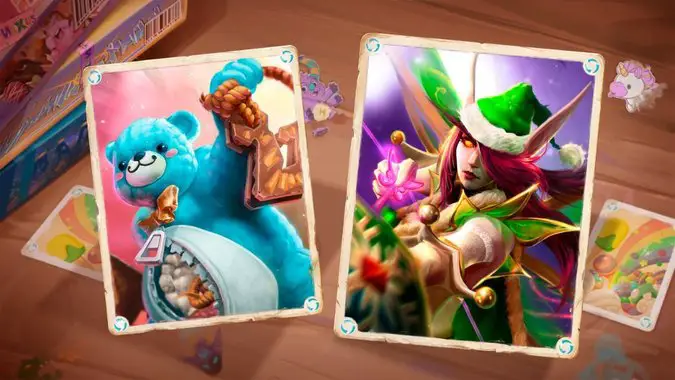 It's almost time for the Heroes of the Storm new Winter Toy event! Running from December 11 until January 7 the new event takes us back to childhood and the fun of unwrapping some brand new toys! No grand fate of the Nexus or having to save Great Father Rehgar this year, just good old fashioned board games and fun. Stitches, Dehaka, and Valeera are getting into the holiday spirit with some action-packed new skins — of course what are toys without collectible accessories? Cosmic Force Valeera rides her Cosmic Lion into battle alongside the plushiest, squishiest Unicorns you can imagine. There's even a Plush Zombicorn that looks like it strayed a little too close to the Tristram cemetery.
Guiding you through your event is The Kid. He's come up with a board game and is really excited for you to play it. As you play along and complete the quests, you'll unlock the usual bevy of sprays, portraits, emotes and banners. Go all the way around the board and you can even select The Kid as your in-game announcer! The game doesn't stop with your first trip around the board, you can keep going and earning Rare quality loot boxes for each subsequent loop. The new board game event quest system looks like it addresses my biggest complaint about the Hallow's End quests. There were four different quests available to you at once, but you could only complete one at a time. Hopefully, the new system allows for a little more flexibility in completion.
Teaching old heroes new tricks
But wait, there's more! Stitches and Sylvanas get their reworks that were first teased at BlizzCon. The changes to Stitches are pretty straightforward. In exchange for a slightly smaller hook range, he gets more talents that are focused around a giant health pool and nibbling on things to get his health back. They help to really sell the idea that you're an unstoppable Abomination that was the bane of many players existences back in Darkshire. His slam hits harder when targets are next to him, which really synergizes well with his updated kit. There's still no sprint — but now his level one regen globe talent increases your movement speed up to 20% by the end of the game. Or you can start stacking passive health regen by taking a bite out of enemy heroes right from level one. As a long time Stitches, I was surprised how many hooks I missed. The base hook range is only a little shorter — but every pixel counts when you're trying to catch a fleeing Malfurion.
We're looking at bigger changes to Sylvanas. She goes from a Specialist to a Ranged Assassin, with a major rework to her trait and baseline abilities. Her rework has her take on a much more team fight oriented role. She can still shut down minions and buildings like before — but on a cooldown. The Withering Fire ability changes to fire off all five shots at once, prioritizing heroes and Shadow Dagger will still spread to other targets — but only if you're attacking primary target. The new talents that buff Withering Fire can combine at later levels to really make her a zippy, fast attacking, and hard-hitting assassin. Which combined with an increase to the speed of her Haunting Wave, will make her a hard target to pin down. Or you can choose talents that work with Shadow Dagger and permanently increase its damage with no cap. In a really long game, you could surprise their whole team with extremely hard-hitting Shadow Daggers.
Sylvanas' rework makes more sense when you look at the upcoming experience changes. Designed to try and take the focus off of getting early forts, Sylvanas as a one Elf wrecking crew didn't really fit in. With the removal of experience from the forts and increased minion and mercenary experience — games on the PTR have felt slower for the first ten levels. It seems like taking your time and playing cautiously can even outweigh going for early objectives, depending on the map of course. A Dragon Knight is still a fearsome presence. I'm wondering if the global presence heroes like The Lost Vikings and Abathur will make a comeback in higher levels of play. Since they allow for greater freedom in contesting objectives and mercenary camps. These experience changes are still on the PTR so they might not be final, we'll have to see what Blizzard thinks after seeing how everything shakes out.