WoW
Dec 6, 2018 4:12 pm CT
Enjoy your December raid break, because Battle of Dazar'alor arrives January 22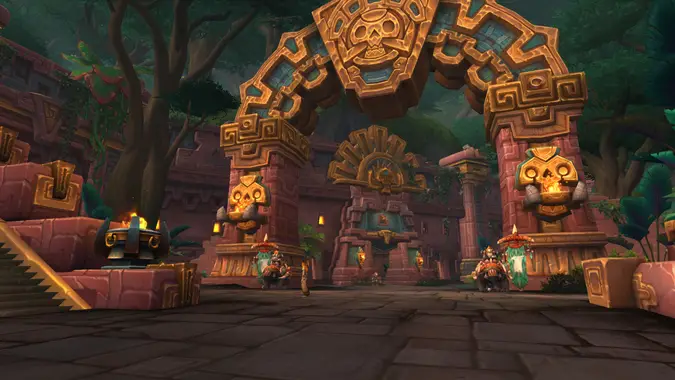 Patch 8.1 may be hitting the live servers next week, but the Battle for Dazar'alor raid won't be coming with it. Blizzard is giving us all a holiday break from raid progression, which means the new raid will be launching at the end of January. As usual, Normal and Heroic modes will go live first, followed by Mythic and then Raid Finder. Here's the Dazar'alor unlock schedule:
January 22: Normal and Heroic open
January 29: Mythic and Raid Finder Wing 1 open
February 12: Raid Finder Wing 2 opens
February 26: Raid Finder Wing 3 opens
This raid will have six bosses and will offer a different storyline for Alliance and Horde — a first for WoW raids. Each faction will face six unique encounters, and I'm looking forward to tackling this one on both factions.
When Dazar'alor launches, this is who we'll find on each side of the faction divide:
Frida Ironbellows for Horde, Ra'wani Kanae for Alliance
Grong the Jungle Lord for Horde, Jadefire Masters Grimfang and Firecaller for Alliance
Jadefire Masters Flamefist and the Illuminated for Horde, Grong the Revenant for Alliance
High Tinker Mekkatorque for Horde, Opulence Treasure Guardian for Alliance
Stormwall Blockade for the Horde, Conclave of the Chosen for the Alliance
Jaina Proudmoore for the Horde, King Rastakhan for the Alliance
There's a bit of overlap there, and I'm curious about the Grong fights for each faction. Is it a completely different encounter or do the two factions just view him in a different light, thus the changed title? And, as a proud Gnome, I'm anxiously awaiting news of Mekkatorque's fate. (Though we've had some spoilers already.) The Jaina and Rastakhan fights are also bound to be interesting — you've probably already heard about Jaina's iceblock games — and I am outright bouncing with excitement to find out what happens. We'll see how long I manage to keep up with the bouncing considering launch is nearly seven weeks away.
Along with Dazar'alor, PVP Season 2 and Mythic Keystone Dungeon Season 2 will both kick off on January 22. If you haven't finished your goals for this tier of content, you have plenty of time to wrap things up, even with the holiday season eating into your game time. But for those who have already hit their Uldir goals, it feels like a long dry season for raiding.
Well, everyone can use a break now and then. And I do need time to level my Blood Elf so I can enjoy this raid from both factions. Alliance or Horde, I hope to see you in Dazar'alor in a few weeks.