WoW
Dec 7, 2018 4:00 pm CT
Here are the movement abilities coming off the GCD in 8.1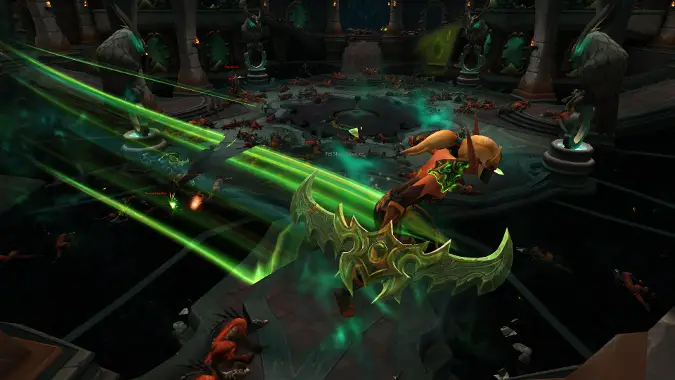 We finally know exactly which movement abilities will drop off the GCD with the release of patch 8.1, Tides of Vengeance.
Ythisens made a post on the forums that lists out some of the abilities that will no longer be on the GCD. They phrase it like the list could get longer before the patch comes out next week — or in future patches after that.
Here is the list I have so far of abilities that are for sure coming off the GCD:
Havoc – Vengeful Retreat
All Druids – Wild Charge
Arms – Charge
Fury – Charge
Protection Warrior – Ignore Pain
Protection Warrior – Intercept
Protection Warrior (PvP) – Dragon Charge
Survival – Harpoon
It's definitely not a complete list of abilities that people actually want off the GCD. Many of the comments are already crying out for stuff like Death Grip and Shield of Vengeance dropping the restriction too. Utility abilities are also supposed to be freed, but it's unclear which ones will be affected yet — and they're not on this list.
The change should help players react to dynamic encounter mechanics — especially those in the upcoming Battle for Dazar'alor raid — without having to pause and wait for the arbitrary timer. The change always seemed risky in the first place, considering how reliant you can get on these abilities. This feels like an iteration on the idea of pruning everything back, but also something that maybe should have been done during a beta period. At least the changes seem considered in one way or another.
This change comes with a whole list of stuff coming in the Tides of Vengeance patch next week. In a lot of ways, this feels like the Battle for Azeroth that we wanted. Streamlined changes to Island Expeditions, tweaks to Azerite Gear, and these GCD changes feel like a welcome return to an understanding of how we play the game. It should also give Blizzard some more room to design new boss encounters and allow for more skilled variation for those at the highest levels. Let's hope this philosophy continues into the future patches.