What's your headcanon?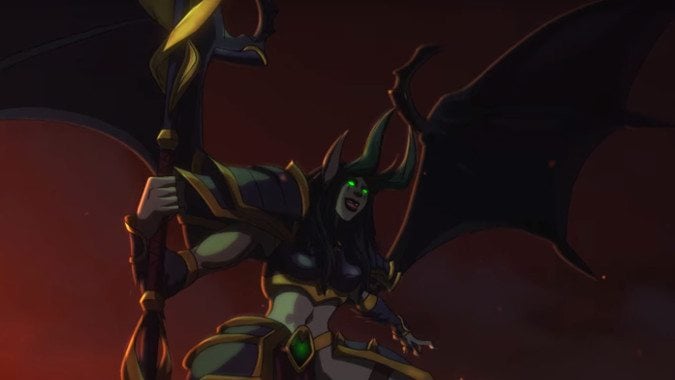 Canon is the body of work deemed to be authentic to a particular writer — there are books and passages in debate in both the Shakespearean and Biblical canons, for example. In gaming and pop culture, canon is the lore considered to be the "real" story. Many universes have bits that were written in the past that are kinda shoved under the rug, either because it really didn't fit the vision of the works going forward, or because it ended up being not the greatest story beat in retrospect. This is usually referred to as "retcon," retroactively altering the canon. See: Me'dan.
In hugely expansive universes like the ones Blizzard writes, that can lead to all kinds of fan-generated theories which may kinda fit into the existing universe, but are mostly just for fun. This is referred to as headcanon. The theory that Jaina Proudmoore is secretly a dreadlord is one of the more popular headcanons in WoW right now. I'm not sold on this one, though I will readily admit Blizzard has gone to the "and now this character is secretly a demon or corrupted or whatever" dartboard just a few times. I did enjoy when it was coyly teased in Heroes of the Storm, however — that whole game is one big headcanon stomping ground.
My headcanon is that Tiffin Wrynn survived. She allegedly died Disney-style when Anduin was young, after being hit on the head by a rock thrown from a crowd. My headcanon is, she made her way to Westfall and met a dashing young Stonemason with some big ideas, fell in love with him. They had a baby together and named her Vanessa, and then — honestly probably died unceremoniously under suspicious conditions again. The Blizzard canon is just about as kind to moms as Disney. But, there are all kinds of fun things I could dream up, better ends for a lore figure who deserved more than "oh yeah, she's dead." It's my headcanon, after all.
So, it's Friday. Let's get wild — but not too wild, this site is still PG-13. Do you think D.Va and Lucio are the cutest couple? Is High Tinker Mekkatorque planning a coup of the entire Alliance? Is Hearthstone purgatory (Ava died of exposure in the Hearth and Home cinematic, by the way)? And of course, there are all sorts of characters in WoW that could've been corrupted by demons or Old Gods. Tell me all about your favorite headcanon.