WoW
Jan 21, 2019 10:00 am CT
Bruce mount and matching armor coming in patch 8.1.5 — Who doesn't want to ride their own crocolisk?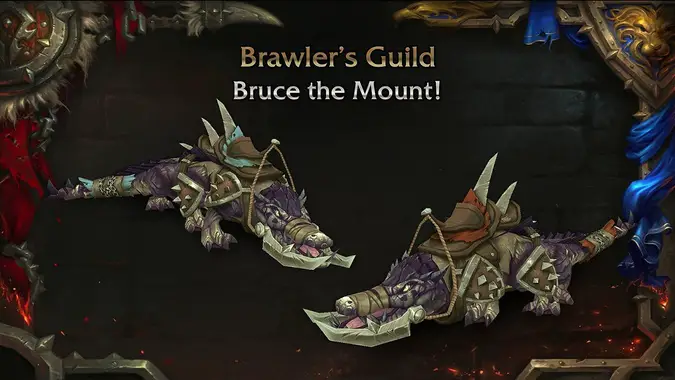 Patch 8.1.5 is going to re-open the Brawler's Guild in Battle for Azeroth. Sadly things haven't been so great in the Brawler's Guild since the last time we saw it — someones been murdered! Luckily Azeroth's top detectives are on the case. Well, not the top detectives, but still pretty good. It'll be up to us to get to the bottom of who was responsible for the heinous act. If we figure it out we'll get to ride the chompiest crocolisk this side of the Eastern Kingdoms.
G'day Bruce. There will have two different variants, with red or blue trim depending on your faction. No mechanical parts though. It looks like the Brawler's Guild wasn't willing to spring for the upgrades. Maybe they're saving Mecha-Bruce for the next murder we solve. I'm just happy to be able to use my love of brawling, animals that bite, and murder to do some good in the world.

New clothes and challenges
If you're coordinating your outfit to match your mount, you could do worse than this new transmog set from the Brawler's Guild. Knee and elbow pads make sure that you're dressing for the slide rather than the ride. Plus all the extra spikes ensure that even if Bruce gets a bit hungry — you'll be a tough meal. There's a certain post-apocalyptic flair to the new armor that wouldn't look too out of place riding alongside a bad guy in Mad Max. Just like Bruce, there even faction colors so you can rep your faction while riding in style — we all know that the red ones go faster, though.
With updates to everything else, there's going to be a fresh batch of extra tough challenge fights. There are 14 new cards that will let you fight everything from a Panda Matriarch, to what could be World of Warcraft's most deadly creature yet. I'm talking of course about — the Hyper Mega-Mecha Seagull x9000. Hopefully, the x9000 is a model number — and not how many of them we have to fight at once. Some evil mastermind decided that regular old seagulls weren't deadly enough. I just pray that when patch 8.1.5 does come out we're strong enough to stop our new Mecha Seagull overlord.