The Queue: Sorry, Adam's not here. Can we take a message?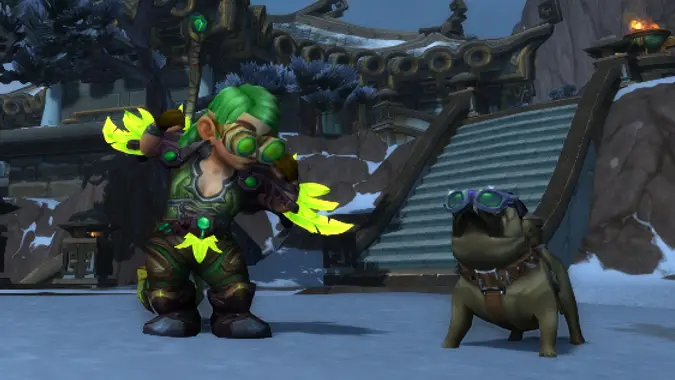 This is The Queue, where you ask questions and someone answers them. Usually that's Adam, but today it's me. Let's get to it!
---
RJAGODA ASKED
Q4Anna: Which battle pet is your favorite, and why?
Q4Adam: When can we expect your post about the changes you mentioned on Twitter?
My favorite companion pet is still my Perky Pug, Bertha. We've been through a whole lot together, but I'm still mad she can wear her Rhinestone Glasses all the time — assuming I stocked up over Halloween — and I have to actually equip a white item to wear mine. In battle, I think I'm going to go with the Zandalari Kneebiter, which still has their synergy Black Claw + Hunting Party combo, even if it's been nerfed a bit over time.
In terms of the Adam question, the answer is Soon™️. He had surgery earlier this week and is on some real good stuff right now.
---
PTAY1313 ASKED
Q4tQueuevians: I mentioned a while back that the University I work at was looking into starting a ESports team, and I just found out it has been approved for Fall Semester 2019. Our Athletic Director has asked me for my input on what we should put into advertisement/recruitment materials, but to be completely honest, I know next to nothing about the ESports scene. So I ask those of you that follow ESports, or are of college age, What would you want to see from a school recruiting players for a ESports team? What would make you interested in coming to my university? Specific games? Scholarship opportunities?
First of all, if y'all don't stop it with the bizarre camel case I'm turning this queue right around and going home. Esports at the beginning of a sentence or in organization names, or esports in the middle of a sentence — that's an actual tip!
In terms of recruitment, I'd focus on which titles you'd like to compete in. If you just say "esports" when you mean Hearthstone and somebody signs up looking for StarCraft, they're probably not going to stick around. TeSPA has a lot of materials for Blizzard games and Rocket League, and Riot has the stuff you'll need if you're thinking of League of Legends.
I'm just a little bit past my college years — don't you say anything — so I can't help too much with appealing to students. In any case, you may want to begin establishing a social media presence so that just in case you do find someone who can help you relate to the youths, you have an easy way to reach them. I hear they like tiktok these days, but Twitter will work too.
---
ALEX CLERM ASKED
Question for the Queuvians:
Do you have a toon you don't like anymore, but can't bring yourself to delete or race change out of nostalgia?
I have a few. Every so often I have a tendency to kind of…abandon my characters. This is usually after an in-game upheaval. My very first main in vanilla made it through to a guild dissolution in the Burning Crusade. We were gearing up to do the Sunwell when that came out, and she's still in tier 6 in Shattrath. I picked up my Hunter again in a different guild through the beginning of Cata, and she was abandoned then because my daughter was a newborn.
I have a few characters like that. My character list is essentially a graveyard.
---
KALCHEUS ASKED
2BE: Euro Truck Simulator 2 vs American Truck Simulator
I've only played American Truck Simulator, but honestly, I liked it so much that I just bought Euro Truck Simulator 2 during the Lunar Festival sale. Farming Simulator is on my wishlist so I get a notification next time that's on sale, and I've been trying to find city bus sims that don't suck to put on there, too. Honestly I think instead of two bosses entering and only one leaving, they'll form a huge Katamari-like ball under which my free time will be crushed.