Overwatch players found some game-breaking uses for Baptiste's Immortality Field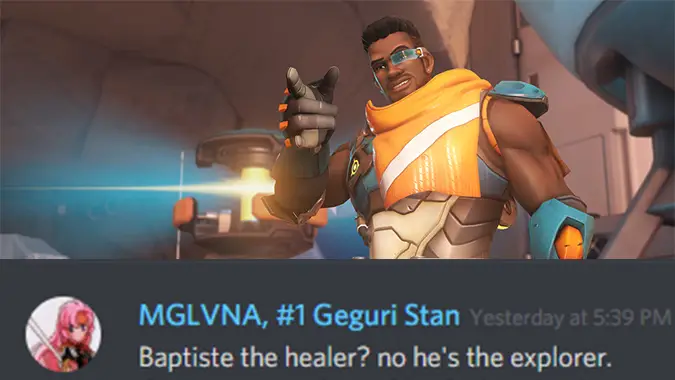 Overwatch's new hero Baptiste has an ability that makes everyone within it invulnerable so — naturally — players have figured out its limits. And the results are kind of surprising.
On Oasis City Center, one of the game's Control Point maps, there are cars that pass by both of the team's spawn locations. Normally, if you get hit by the cars you will instantly die in hilarious fashion. Not for Baptiste though. Reddit user xeio87 tested out his Immortality Field against the dangerous cars and it totally works.
Playing in traffic, now safe for the entire team! from Overwatch
As you can see in the video, the cars still knock Baptiste backward, but they don't deal killing damage. Immortality Field will preserve 20 percent of a heroes' health until it ends or the emitter is destroyed. Apparently the cars don't instantly-kill players, they deal a set amount of damage.
Speaking of dealing a set amount of damage, it's time to blow your mind.
Living in an instant death zone in Hanamura with Immortality Field from Overwatch
Baptiste can live after falling off of a map like Hanamura. Reddit user Deeakron figured this out in a custom game with low ability cooldowns. If you spam the Immortality Field fast enough, Baptiste can live long enough to reach the grassy bottom of the Hanamura map. That might mean you could do the same on other maps like Eichenwalde and King's Row. It's funny how the game doesn't force you to die, but instead deals a set amount of damage.
Baptiste can live through Ultimate abilities like D.Va's Self Destruct and Junkrat's RIP-Tire. We tested that on our Twitch stream on Tuesday. We weren't big brain enough to figure these uses out though. While these are definitely funny to watch, I hope they're fixed. I'm sure players will find some weird way to exploit these uses into something that makes the game unfair. At the same time, I do want to see some kind of amazing Custom Games with the Immortality Matrix. Maybe a mode where Baptistes have to keep a low-health ally alive against a normal team or something.