Off Topic: The Costume Quest TV show is just as charming as the game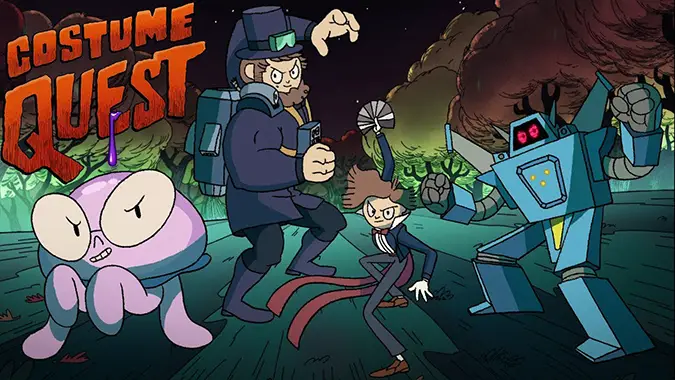 Whether you're impatiently waiting for Netflix to release Stranger Things' third season or simply for next Halloween, you should fill the break with the Costume Quest animated series on Amazon.
Like Stranger Things, Costume Quest follows a group of young kids in a small town where something has gone wrong. There are monsters disguised as humans and they're hungry for nougat candies. The kids seem to be the only ones that are aware of the threat and they're able to fight back with their handmade Halloween costumes.
Just as in the 2010 game by Double Fine, the dinky costumes transform into the real things with the power of imagination — turning the series' main character, Wren, into a lanky, crime-fighting Abraham Lincoln. The way Wren and her crew evolve their costumes over splashy backgrounds before a battle resembles Pokemon and Power Rangers in style. And the fights themselves match: the monsters take the form of plumpy scorpions and furry Monsters Inc.-style behemoths.
Although Double Fine isn't directly involved in the show, the creators match a lot of the game's charming writing. When confronted with a locked door, a banana-costumed Wren begins to tug on a loose spot near her head and announces, "Uh, obviously that door doesn't stand a chance against my irresistible a-peel."
It's a kids show, but there are winks and nods for older viewers too — think Netflix's Dragon Prince. That's what always made the Costume Quest games compelling. They're humble, witty, and simple in a time where media is often complicated and attached to gigantic franchises and brands.
Costume Quest was born out of a love for Halloween by its creator Tasha Sounart during a game idea brainstorm project at Double Fine. It's not an epic story-line that has much more to say other than that creativity is awesome and embodying something other than yourself can be empowering — and sometimes powerful enough to save the world.