WoW
Mar 22, 2019 2:00 pm CT
If you've been chasing T'paartos' look, rejoice, for you will finally be able to hide your chest armor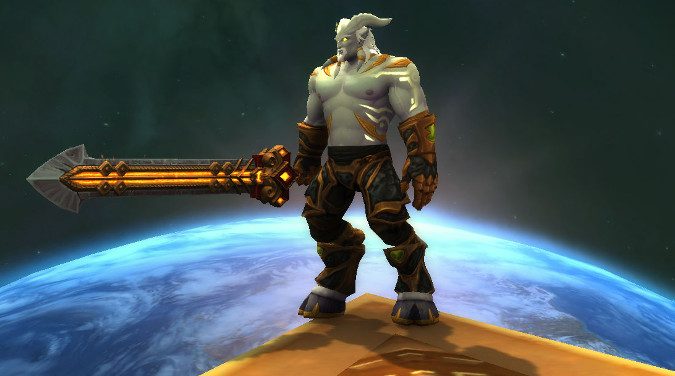 During the Q&A on March 21, Ion Hazzikostas answered a question about transmog that, had I not been lying on my back in intense pain and thus not watching the Q&A at that time, would have immediately put a big dumb smile on my face. I know it did several hours later when I watched the VOD.
One of the things I've wanted to be able to do in transmog forever is to be able to turn off my chest armor piece. This became an especial interest of mine once we started getting Allied Races with cool tattoos that were completely hidden by our chest armor choices. I even leveled one of my Lightforged without chest armor for as long as I could, like some kind of Fox Van Allen.
The discussion of transmog and its restrictions didn't stop at this revelation, however. Ion discussed transmog restrictions over the years, using the famous Cookie's Tenderizer as an example. It's a weapon that drops in the Deadmines instance, and if you have that weapon you can absolutely use a rolling pin to hit people and things with… but you can't transmog other weapons to look like it. When transmog was put into the game at the end of Cataclysm there were concerns that these kinds of items were too silly if allowed, so they were restricted from transmog. The idea has always been that it was better to be conservative with transmog, since it is always hard to take something away from players if it turns out to be a bad idea.
But now, eight years later, having seen how players use transmog to create individual looks for themselves, items like the Tenderizer and other options such as the Stinkrot Smasher are being added to transmog. Ion mentioned that the system is getting a general evaluation by the team looking for places where the restrictions can be relaxed, which I think is a fantastic idea. I've always been a big fan of transmog being opened up — letting daggers transmog to other weapons would be a fantastic idea, although Ion didn't specifically mention that. Just planting seeds, I guess.
But we are getting more options than just the ability to hide our chest slot. CM Kaivax posted to the forums with an update that yes, they're working on being able to hide every slot… except pants. When asked why not just let people hide everything, he responded with the following:
Okay! Done.
Except for the pants.
I spoke to the development team just now, and they are determined to make this a set of changes that give players ways to hide every slot.
Except pants.
We'll let you know as soon as we have details on how that's going to come about in a future update to the game.
That's a fair decision, I think. Frankly, I don't trust you people with the power of pantlessness. Still, I'm already looking forward to various Kull-themed transmogs I may come up with. Demon Hunters, Mag'har Orcs, Lightforged Draenei and any others with cool chest tattoo options, now you'll get to show them off.