WoW
Apr 17, 2019 6:29 pm CT
You may never notice this tiny change to World of Warcraft, but it could fundamentally change the community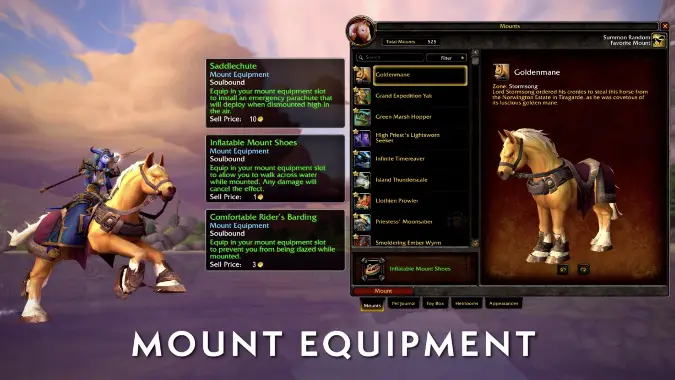 When WoW's patch 8.2 was released on the PTR, dataminers found something distressing: most of the descriptive filenames in the game's database have been removed. It's a small change that could potentially ruin dataminers' ability to interpret and categorize the files.
To give context to this, Blizzard has removed almost all file names from the dbase, which makes model work and datamining very hard. Like, if every file on your computer was renamed to random characters and moved to a single folder…. https://t.co/FTCi8KhBlH

— WoW Petopia (@wowpetopia) April 17, 2019
Websites like Wowhead, Petopia, WarcraftPets, as well as machinima filmmakers and cosplayers will have to deal with this drastic change in order to do their jobs and create their projects. It also means that gathering ripe new information about upcoming quests, events, and models will be much harder — which narrows those who can afford to spend the time datamining.
Wanted to highlight this point re: WoW database changes, b/c it hits very close to home. As merely a volunteer that works with other passionate volunteers, resources are limited for us and there's only so much we can do to begin with. https://t.co/RVq4dgca1u

— Quintessence (@perksnpeeves) April 17, 2019
"Major sites like Wowhead can afford to puzzle it all together," Petopia owner Wain said, "but for now the rest of us cannot. We'll need to band together to make up our own names for models and link them to the numbers and make our own file structures, but that will be slow."
Any solution will have to be made with an agreed-upon naming method so that most of the community could utilize and understand it. It's a laborious solution to a problem that some say was likely caused by Blizzard wanting to streamline their database. Unfortunately, a decision to make the game development go easier could devastate a portion of the community around it. Blizzard has yet to comment on the change at the time of this writing.
Blizzard's relationship with datamining has been vague. Blizzard has changed file structures for its games in the past and said that they don't always like how datamining can ruin surprises. You can see where Blizzard is coming from when it comes to new content. It's not as fun to create something momentous only to have it revealed unceremoniously as pasted text on a datamining site — but at the same time, Blizzard frequently links to Wowhead and other datamining sites.
We aren't yet sure if the change was meant to stifle datamining — it probably wasn't — but the end result is the same. Until dataminers can make sense of the game's new database structure, the secrets of the PTR will remain out of our reach.