Try out some Overwatch Workshop community creations which let Reinhardt wallride and make emotes lethal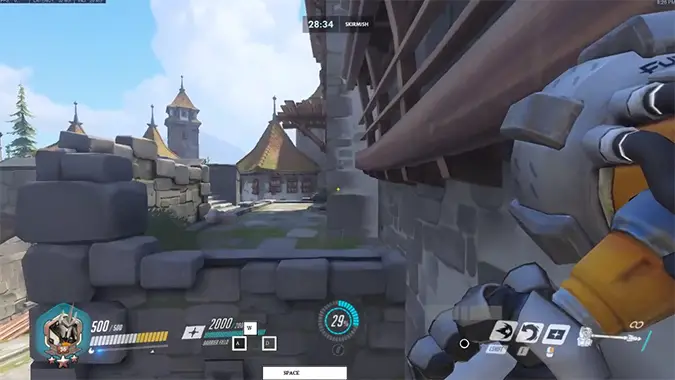 Earlier this week, Overwatch introduced its new Workshop creation tools onto the game's PTR servers. The kit lets you tweak a staggering amount of things including game modes, heroes, and abilities. As you'd expect, the community is pumping out tons of weird and clever creations.
Any Workshop creation can be shared and played with the unique codes you'll see below, so you can go and play with these whenever you want!
The "gun game" modes will give you a good taste of what the Workshop tools are capable of. The point of the mode–which is based on Counter-Strike–is to climb up a list of increasingly powerful heroes as you obtain eliminations. In a lot of them, you start as Mercy and once you get your first kill, you'll transform into Moira on the spot. There's a ton of these on the custom Game Browser, but a popular one can be played with the code V3J1Z.
Loving the new custom Workshop from @PlayOverwatch!

Big fan of gun game from CS so here's the scuffed code for it: V3J1Z pic.twitter.com/UAG5CAb2gn

— KarQ (@KarQGames) April 25, 2019
Titled "Advanced Widow HS", this custom game is basically your typical Widowmaker headshot-only mode but with a twist: every time you kill another Widowmaker, you'll teleport to her spot. It makes the Play of the Games look pretty stylish, although I'd like to see this mode remove the ability to walk and limit all movement to teleports for an extra layer of strategy. You can play it yourself with the code HPSHR.
The next mode is easy to explain. It's a Deathmatch mode where you emote to kill people in a radius around you. It's perfectly stupid and finally adds a mode to the game that embraces the many, many emotes in the game. I'm going to use Mercy's Caduceus emote to get my win. This ridiculous mode is playable with the code 0V9FF.
Now, let's briefly explore some of the ways people are tweaking existing heroes.
This person gave Reinhardt the ability to Wall Ride like Lucio and it looks so absurd that I have to go try it myself. The code for this is YNV6M.
Have you ever wondered what it would be like if Roadhog had Widowmaker's Grappling Hook? This person put it into the game and it's just as amazing as you probably dreamed it was. Do poor Roadhog a favor and give him some mobility with the code 3VA7X.
All of these creations still seem to only scratch the surface of what's possible with the Overwatch Workshop tools. I'm sure that with some more time, people will find new ways to change how we play the game and I'll be here watching in awe.