The Queue: As narrated by David Attenborough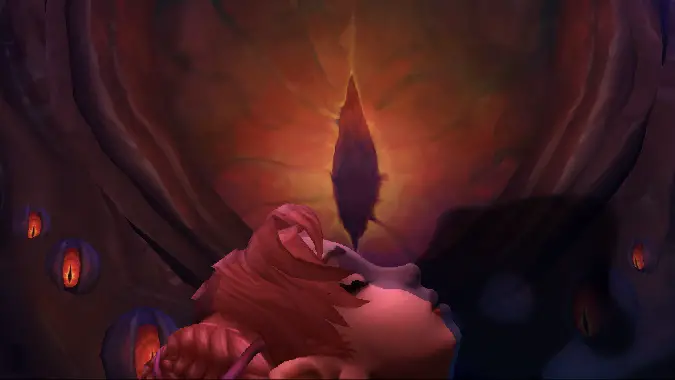 Sometimes I play through quests and imagine them narrated, nature documentary style, by David Attenborough.
Now watch as the Old God examines its prey…
I am the antelope in this documentary, and things never go well for the antelope.
---
RED ASKED:
Q4Liz: what does the word "persaonlly" mean, and why did Mitch use it?
I know you probably expect some juicy infighting here, but honestly… Mitch is pretty good with spelling and grammar. You can be perfectly good at spelling and still make the occasional typo or mistake. One of the toughest things about writing is spotting your own mistakes, because when you re-read your work, your brain knows what you meant to write and can fill in any gaps in what you actually did write — so even typos like this, which look obvious to us, can be difficult to spot when you reread.
I'm afraid you have to cut Mitch some slack on this one.
---
JALAMENOS ASKED:
Q4tQ: Are you excited for 8.2?
I am really excited to explore Mechagon, and I honestly can't remember the last time I was genuinely enthusiastic about a new zone. There have been plenty of zones I've enjoyed playing through, but they rarely catch my interest based on screenshots and story summaries.
But I want to see what's happening in Mechagon for myself. I want to explore the zone and the dungeon. I want to build crazy mechanocats. I want to play a Mechagnome. (I hope I can play a Mechagnome.) There's a lot going on in Mechagon and I want to see all of it.
It's okay if you aren't excited about Mechagon, but you're wrong.
---
FUZZYBUNNY ASKED:
Q4tQ: What do you think of the fact Blizzard won't have a booth at Gamescom?
Blizzard has always been big on releasing content when it's ready, and not a minute sooner. No showing at Gamescom says, to me, that there's nothing to show or nothing they want to show.
Gamescom is in August, and even though it was relatively close to BlizzCon, Blizzard has made a point of showing something there every year. The biggest announcement was Legion at Gamescom in 2015, and though not every announcement can be that big, Blizzard often shows off cinematics at Gamescom — and for the past three years, it's been where Blizzard revealed one of two annual Overwatch shorts. The Last Bastion (2016), Rise and Shine (2017), and Shooting Star (2018) all came out at Gamescom, with the year's second short released at BlizzCon. These weren't big game development announcements, but they were amazing bits of story, wrapped up in the fan hype and festivity of Gamescom.
Perhaps we'll see the next cinematic released online during Gamescom instead of in person at Gamescom. Perhaps Blizzard's focus on game development itself means less time for these big story cinematics. Perhaps Blizzard is going all-out on a full animated series that just isn't ready yet.
The problem with speculating about Gamescom is that the change could mean anything. While I've used Overwatch as an example, this theme applies to any game. Blizzard skipping Gamescom could mean nothing at all, and you'll simply get the same news online rather than at a convention. Or it could be a sign that Blizzard has no news to give. Or it could be a sign that Blizzard is saving up for a bigger announcement later. We just don't know.
Blizzard certainly loves the excitement of a big convention reveal, and perhaps this is just about building more excitement, with everything happening at BlizzCon. I think that's the most likely turn of events: fewer in-person conventions, with the continuation of livestreams and AMAs online, and a mountain of announcements at BlizzCon.
If anyone remembers this answer when November rolls around, we can have this conversation again. It'll be fun!
---
KALCHEUS ASKED:
Q4tQ: Do you consider the "Leia buns" hairstyle more Gnome-ish or Dwarf-ish in WoW?
Braided styles feel very Dwarven to me, but I rather like the idea that Gnomes have picked up on some of these Dwarven styles and adopted them. A pony tail is a very fast way to pull your hair out of your face, which is ideal if you're an engineer on the go who needs to be sharp-eyed to solder your latest work of engineering genius.
But pony tails swish and sway, and they could easily get tangled in aforementioned work of engineering genius if you leaned over it. A braid, on the other hand, takes more time to put up, but is also a more efficient hair containment method — particularly when twisted up into buns. Very practical.
I choose to believe that Gnomes adopted the idea of braided styles from the Dwarves, and have turned it into some kind of hair structural engineering project, with increasingly elaborate twists that seem to defy gravity, like that crazy tower design.
---
FLANAGEDDON ASKED:
Q4tQ: who is your favorite character that has been left behind? lost forever in the realms of previous expansions, going to forgotten characters anonymous in the basement of the cathedral of light.
Wrathion. I'm pretty sure that doesn't need any further explanation.
And that's all for now, my friends. I must return to my antelope life and hope the lions don't catch me today. (And preferably not tomorrow, either.) I hope you all have a lovely Wednesday that is totally devoid of lions.