WoW
May 2, 2019 4:00 pm CT
Children's Week has new orphans, new pets, and a bugged achievement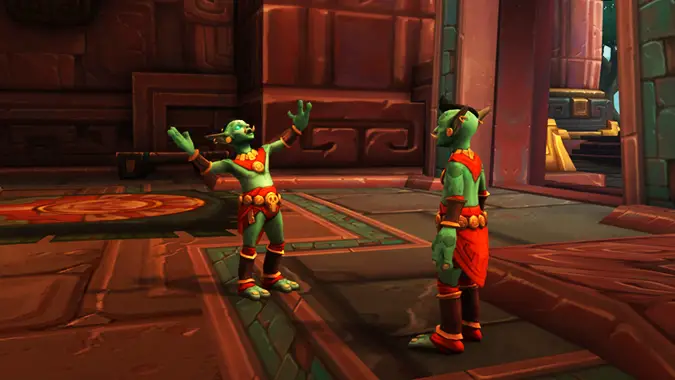 Children's Week has been updated for Battle for Azeroth, with two new orphans and four new pets. This year the holiday runs from Thursday May 2 to Thursday May 9. I'll confess, I haven't been the biggest fan of Zandalari orphans this expansion, but hey, there are new pets to be had! I can corral orphans for pets.
You can start the questline by heading to your faction's local orphan caretaker to pick up the Children's Week quest for a Kul Tiran Orphan Whistle or Casteless Zandalari Whistle.
Here is where you take Liam, the Kul Tiran orphan:
And here is where Azala, the Zandalari orphan, goes:
At the end of the questline, we get get the option to choose one of four new pets. You can only get one pet per character, since it's a reward from completing the orphan's demands. However, you can use alts to get the other pets if you so desire, or just wait for next year.
It doesn't appear that we get a holiday-specific hearthstone toy with this event, unlike the other WoW holiday events, though thinking about it that makes sense. I'm not sure how a hearthstone toy of that sort would look anyway. On second thought, I probably don't want one. It would probably spawn more orphans to herd.
To collect any of the previous pets, here is a quick overview of where to go to start the orphan questline and what is available:
You can also pick up a couple toys. Just visit Craggle Wobbletop in Stormwind or Blax Bottlerocket in Orgrimmar to buy the balloon toys — Green Balloon and Yellow Balloon for 10 silver each.
Of course, it wouldn't be a proper Children's Week post if we didn't include everyone's super favorite achievement, the School of Hard Knocks. Even better is that it seems to have added a new element this year: the achievement is bugged and impossible to complete. Players are reporting that they're not getting credit in Arathi Basin or Warsong Gulch, which may be due to the revamps the two battlegrounds received. Hopefully it gets fixed soon, though I'm sure no one would be terribly sad if it were just removed from the meta instead.
Update: The School of Hard Knocks bug has been fixed, which means you're still on the hook for getting it done.