What is your preferred camera angle when you play WoW — and do you change it?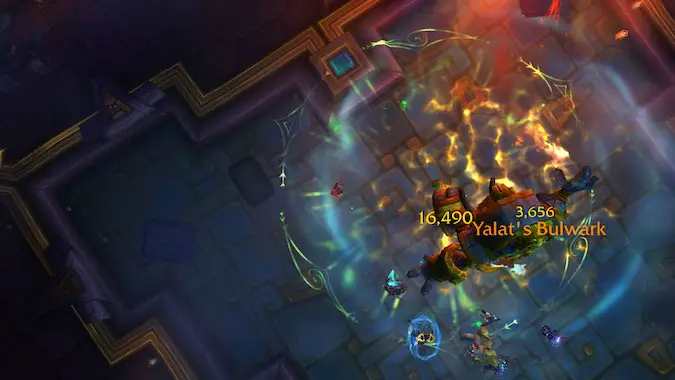 My guild is working on Opulence, and it took us a few runs to get people trained to do the wings. We had some flip-flopping between groups to even out the DPS and healing, and I was eventually put on Yalat's Bulwark in the right-hand hallway.
One of my issues was staying alive during the Flames of Punishment, which pulses with a conical effect while the mini-boss spins. The tank said to stack on him and follow him around. But with all the other stuff going on, I just couldn't see the extent of the cone and any fire patches dropped by people trying to keep the scorching ground out of the group. Then, I got the bright idea to look down on the fight. Bingo. Everything the boss did, I could see.
This got me thinking. How many bosses do I adjust my camera angle on? Looking down works exceptionally well on Heigan in Naxxramas and Durumu in Throne of Thunder. I can see where I'm going. I can see their attacks. Some things you just miss when you look across rather than down.
But that's not my preferred camera angle. When I'm out in the world, I'm look right across the top of my character's head and I'm back about 10 feet, though that distance can change based on where I find myself. If I'm in close quarters, the camera will show me the back of my character's head or it will suddenly go first person. It's disconcerting when it happens but it lets me know I'm up against something solid. I knew a couple of people who played first person almost all the time back in WoW Classic, but I don't know how they could do that. When asked, they said it made them feel more immersed in the game — like they were right in the action instead of watching it from afar.  Never mind that you can't see what's at your feet in first person.
When I play Heroes of the Storm, I find myself wanting to change the camera angle… right up until I realize oh right, it's static. I've watched people play Overwatch and that first person action view activates my motion sickness. I'm glad you can play that, but I can't. I wonder, however,  if you're a heavy Heroes or Overwatch player — or any other computer game with humanoids —  when you come back to World of Warcraft, do you find yourself wrestling with camera angle?
Today's questions are:  What is your camera angle for WoW? Do you change it or is it fairly static? Do you have camera issues if you play another game and then come back to WoW? Finally, is there a game that has a camera angle you wish was available in WoW?