The Queue: It's not a competition when you already won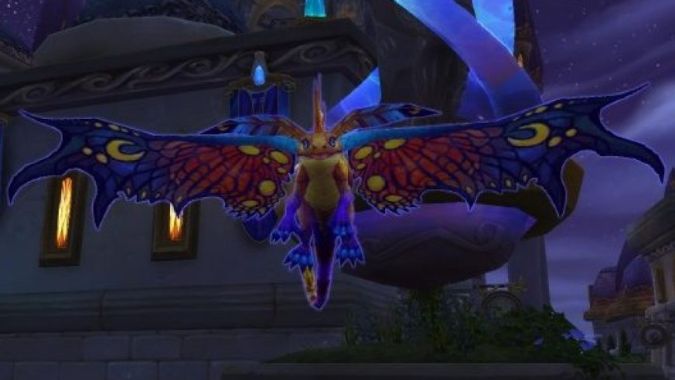 Welcome to The Queue, our daily question and answer article, where you ask the questions and we pretend like we know the answer, occasionally consulting Google as though its arcane tarot will help, when all is screaming from both the heights of heaven and the depths of hell.
Huh, it looks like I got some of Mitch's questions mixed in here again. Let's A some Qs!
---
TKC COMES OUT SWINGING A MALLET
Q4tQ: Back in Pandaria I seem to recall Garrosh giving a younger Anduin a world class beat down. Why did Garrosh let him live?
It was a pretty classic villain mistake. The old, "eh, he's probably dead and I have other stuff to do." It's not so much that Garrosh let him live as he assumed Anduin was dead after being crushed by the bell. Heck, the player character thinks he's dead too, until they sense slight signs of life.
Garrosh's real mistake was letting the player character live. He did it so we could bring news of Anduin's demise back to Varian, but that doesn't add up. Something tells me Varian would've eventually found out Anduin was crushed like a grape, since everyone at Operation Shieldwall would eventually come looking for the player. Anduin was being secretive but the player was traipsing around the entirety of Pandaria looking for random mallet parts. Even in that scene Garrosh knew the player was a threat and sent his best warrior after us but disregarded Anduin almost entirely.
I still don't have a good explanation for that one.
---
RAZWICK ASKS QUESTIONS SHE KNOWS I CAN ANSWER
What colour should Raz dye her hair.
Preferably just one colour because I'm lazy.
Not sure if I should pick the options or let you guys. Hrmmm.
Indulge me?
I've been growing out my hair to do a wig donation for a super long time so dying is off the table for me, but I've been sweating well-done rose gold balayage for a while… and then I saw copper and copper blush balayage . Just like the light pink, the copper fades well, and because it's a balayage it doesn't need constant root touchups. The copper is a bit brighter to start, and goes a bit better with darker base hair tones like mine than most of the rose golds I've seen.
So basically what I'm saying here is, let me live vicariously through you.
---
LOTHARFOX KNOWS JUST HOW TO FLATTER ME
Tuesday used to be our 2BE enter day. But now Mitch has moved to Thursdays, and Anna Bell is Tuesday.
As she is our resident pet battle expert, I propose we make Tuesdays Two Battle Pets Enter days. I'll start:
2BPE: Celestial Dragon vs. Sprite Darter Hatchling
Sprite Darter Hatchling is one of my favorite tentpole pets. When I was writing pet battling guides with more regularity I usually recommended the Nether Faerie Dragon because it's easier to tame and has slightly better baseline stats and more breed options, but the two have identical moves. Being a Dragonkin it takes decreased damage from Flying attacks, and it has an option to use a full Magic moveset, making it an utter Flying killer. It's fragile, but a glass cannon.
Celestial Dragon has a single healing spell, a few lackluster weather effects, and uh. That's about it.
I'd honestly even give the edge to the Sprite Darter in the looks department.
---
MOVEWOW HAS AN ACTUAL GAME QUESTION!
Q4tQ: After reading the Benthic gear article I'm really looking forward to that part of 8.2.
The article talks about gear catch for returning players. Starting in Legion and even more so in BfA, it seems like we've been told by Blizzard that content like World Quests, Warfronts, Island Expeditions, Mythic Dungeons zeros, are all part of this gear catch up system for players.
Currently in a weeks time it seems like you can get a new 120 character's ilevel to 385. Which made me wonder. If the majority of WoW's players never raid beyond LFR, do you think these catch up systems are hurting the game, because once players do LFR they quickly get bored of playing and stop?
I feel like it moves LFR closer to what it was initially intended to be: a place to go and dip your toes into content, to see and experience it, and not feel like you have to go back ever again if you don't want to.
Over time, even as a very-casual casual as far as raiding goes, LFR has been increasingly boring and tough to muscle through for me week after week. It can be frustrating, but it's only very rarely fulfilling beyond the first repetition of content. Even then it's pretty lackluster, since they rip out nearly all the scenes and transitions you see in Normal.
I feel like the intent is to funnel people into guilds and more accountable pugs in Normal, rather than using the LFR tool. In theory, this should create a more social and therefore more robust playerbase. However, it seems like lots of people are seeing the futility in doing LFR and just throw their hands up and stop playing rather than seeking out a guild.
Maybe I'll keep doing it for transmog though.
---
ACOLYTE HUSSKIES KNOWS THE GIRL SCOUT MOTTO
I'm supposed to get stuff ready for my trip but I have no idea what I'm supposed to do. I have clothes and toilet supplies.. what more should I want? I've never done this before, except for road trips to the US.
It'll depend a whole lot on your needs, but when I travel I always bring a hoodie — it controls temperature and it's a pillow! — my Kindle with tons of books and 14 days worth of battery, and a power supply for my phone as my main staples. I have a tiny contacts lens case with a tiny solution bottle that fits inside my glasses case, and I bring that too — though I usually wear my glasses, having a secure place to set them if I want to close my eyes is great.
I also make sure to have a decent face lotion, hand lotion, and lip balm because my skin always gets super dry, especially if I wash my hands in public rest rooms at any point. That may have something to do with the hand sanitizer, too. A few cotton pads in a baggie saturated with some micellar water is a great face refresher if you don't wear makeup when you're on the road. Since I had kids I always have a small thing of pretzels on my person which has really come in handy for me a few times.
The main two tips I'd give anyone about traveling are to drink water as often as you can, and pee any time you have the opportunity. You never know the next time you'll get the chance to do either.
Oh, and it's slowly becoming a thing in my family that, any time we have a lengthy trip to go on, we always bring a thing of gummy bears. Your mileage on that one may vary.
If any of y'all have more travel tips for Husskies, the comment section starts now!