WoW
Jun 26, 2019 4:00 pm CT
🔥These updates are fire🔥 World of Warcraft just got a little prettier thanks to some graphics updates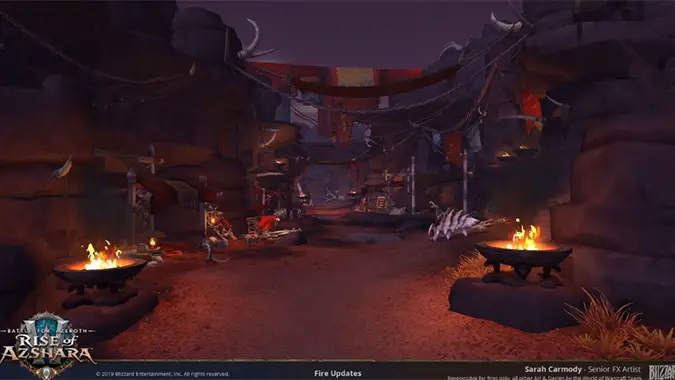 There's a lot of fire in WoW — Goblin explosions cause it, Mages cast it, and Sylvanas started it. Imagine if that fire looked way better. Boom. Now it does in patch 8.2 Rise of Azshara thanks to one of the game's visual effects artists.
That artist — Sarah Carmody — took to Twitter to post some examples of the new fire effects in test environments. You can see that the fire spews out much darker smoke than the previous versions and seems to have a more intricate animation cycle. Overall, it looks more unstable than the fire we had before the latest patch. The change makes the world feel a little more uneasy, as if the fires could seep out of the braziers or dissipate in the darkness.
Excited to unveil a global update to ambient fires in patch 8.2. As you can imagine, this was a massive undertaking on a game as huge as WoW!

🔥🔥🔥🔥🔥

More in thread and here- https://t.co/mngS4GONWU pic.twitter.com/pAtiPVEggH

— 💙✨Sarah Carmody✨💙 (@sarahcarmody) June 25, 2019
"We wanted this new fire to feel as painterly and handcrafted as the rest of WoW," Carmody wrote on their Artstation page, "and to look as if it were painted into the environment if you took a screenshot."
But that's not the only new visual effects in the 8.2 patch. Another effects artist, Luis Aguas, posted the animations for the new Azerite Essences too.These abilities use the stored Azerite power in your Heart of Azeroth and do a variety of things. You can see that in Aguas' list of animations that surge with the blue and gold of Azerite. My favorite is the one that draws Azerite from the sky and it circles the character in a disc-like shape for Artifice of Time. Like the fire, a lot of these effects look powerful but unstable. The feel of these abilities make sense for stuff that we're drawing out of the planet itself.
While none of these effects drastically change the way the game is actually played, they do a lot to strengthen the feel of the world, and give screenshot takers more to work with. The game has always had a distinct look that keeps it from looking dated in the way that other games and MMOs can often struggle with. Small changes and additions like these keep the big world consistent, dynamic, and inviting for anyone who hasn't jumped in yet.