WoW
Jun 26, 2019 2:00 pm CT
Everything you need to know about World of Warcraft's new mount equipment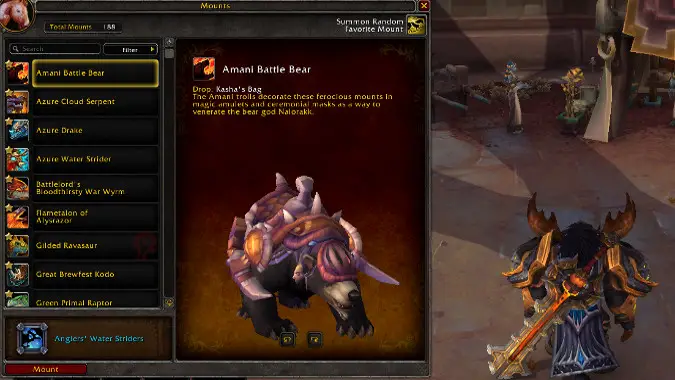 The way mounts work in patch 8.2 is a little different than it used to be in World of Warcraft. Now, on the mount selection pane, there's a single gear slot that allows you to equip various forms of mount equipment . Somewhat similar to the kinds of equipment we had for followers in Warlords and Legion, these equipable items confer specific benefits when riding any of your mounts.
There are currently several kinds of mount equipment. Four of them are made by specific professions, while one  — the Anglers' Water Striders — is a Bind-on-Account item available for purchase from Nat Pagle (in Pandaria or in your Warlords garrison) for 40 gold if you have sufficient reputation. If you owned a Water Strider mount, all of your level 100+ characters will receive a pair of Anglers' Water Striders in the mail for free, but you'll have to buy any more. This is a small perk for anyone who earned the reputation to buy a Water Strider mountin the first place — everyone else will have to buy crafted mount equipment off the auction house.
These are the rest of your options, all of which are crafted:
If you have one of these professions, you can learn the pattern from trainers in Nazjatar. Otherwise, you'll have to buy them on the auction house — and they're pretty pricy right now.
Once you have your gear of choice, it's easy to use. The mount equipment tab slot just shows up on your mount collection page. You can add one piece of equipment, which applies to all of your mounts on that character. Using the equipment consumes the item, so if you change your mind, you'll have to purchase or craft it again.
Please note: An earlier version of this article incorrectly stated the above items are BOP and not consumed on use — this is not the case. You have to have the associated profession if you'd like to craft them yourself, but they can be bought and sold on the Auction House.