WoW
Jul 8, 2019 4:00 pm CT
Benthic gear: How do you upgrade it, and how do you get it in the first place?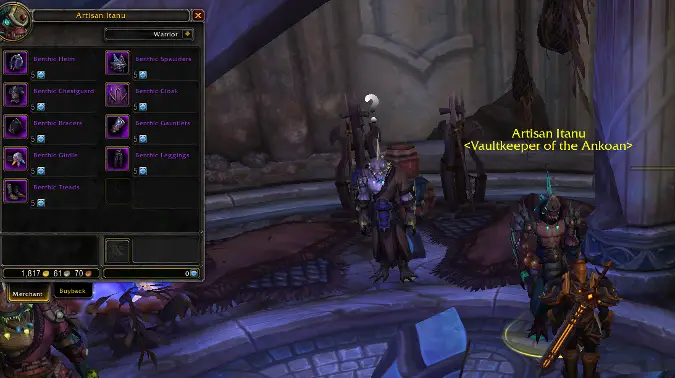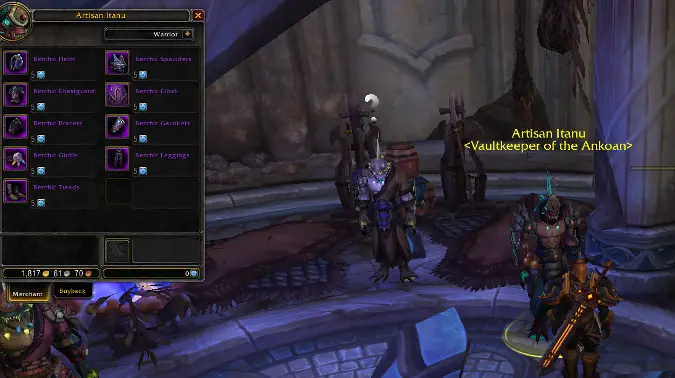 Benthic gear is the catch up mechanism that was introduced in Battle for Azeroth's patch 8.2. It's fairly reasonable to achieve the first level of Benthic gear, and it can be upgraded over time, making it useful for players who are coming back or otherwise near the means to get gear near the level of players planning to raid the Eternal Palace this week.
In order to get Benthic gear, you need to have Nazjatar unlocked and to have moved far enough through the quest chain to gain access to World Quests. Benthic gear can be rewarded from Nazjatar Emissaries and World Quests. It also drops from various mobs on Nazjatar and it can be purchased for Prismatic Manapearls which you can get from World Quests, from killing special rares, and from Nazjatar Emissaries as well.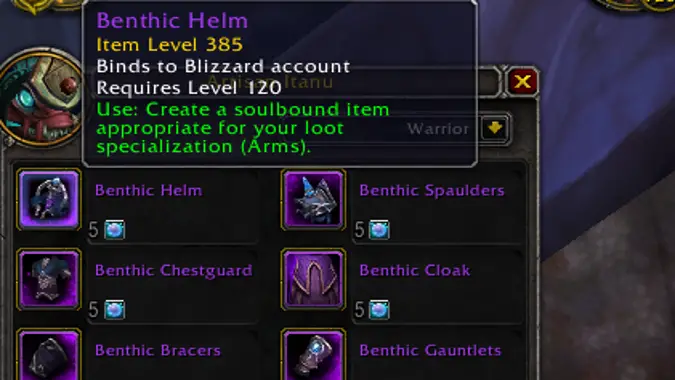 Surrounded by enemies, unlikely treasures
It's five Prismatic Manapearls per Benthic token, which transform into an item for your character's class and spec — so in the above image, the Benthic item will become a Helm for an Arms Warrior. Helms, Shoulders and Chests will be Azerite pieces as well. Each faction has a trader who sells Benthic items, such as Finder Palta for the Unshackled faction the Horde allies with, and Artisan Itanu for the Ankoan.
Benthic items start at item level 385 and can be upgraded at an Ethereal vendor — each faction has one in their starting base. To upgrade gear from 385 to 400 costs 20 Prismatic Manapearls, and from then, the upgrades are both smaller and cost more with each increase. Going from 400 to 405 costs 10, from 405 to 410 costs 15, from 410 to 415 costs 25, from 415 to 420 costs 50 and from 420 to 425 costs 100 Prismatic Manapearls. That's per item, so to fully upgrade every single piece of Benthic gear will be reasonably expensive. Also, Benthic Azerite gear only upgrades from 400 to 415, and costs 50 Prismatic Manapearls for that upgrades. Worth keeping in mind.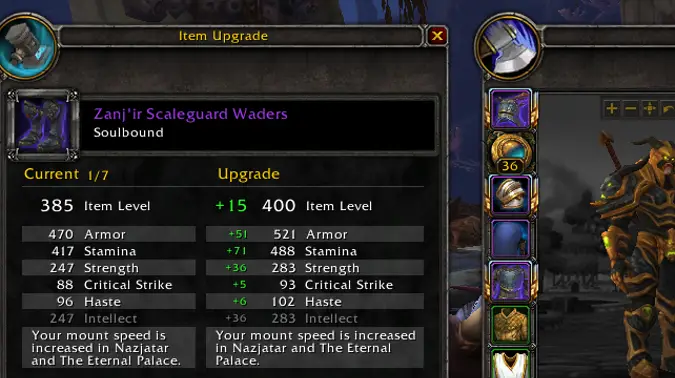 They make our loot better
You can get Benthic pieces for every slot except neck — which you shouldn't need anyway — rings, and trinkets. The final upgrade level, level 425 (415 for Azerite gear) is slightly below what you can get in Heroic Eternal Palace, meaning that you will likely be able to fill in any slots you need with Benthic gear — of course, you'll still need weapons, rings, and trinkets, but with full 385 Benthic pieces my Human Warrior got from ilevel 340 to 377 in one day of playing catch up. This means that rewards from other sources went up in ilevel as well, so it also benefits you when doing World Quests outside of Nazjatar, increasing your chances of getting higher level rings, trinkets and even weapons from Quests and Emissaries.
Hopefully this helps you get started collecting Benthic gear if you've been away from the game for a while, or if you've decided to focus on one of your alts over another as patch 8.2 heats up.