Overwatch's Practice Range is awful, so practice your headshots with this Workshop mode instead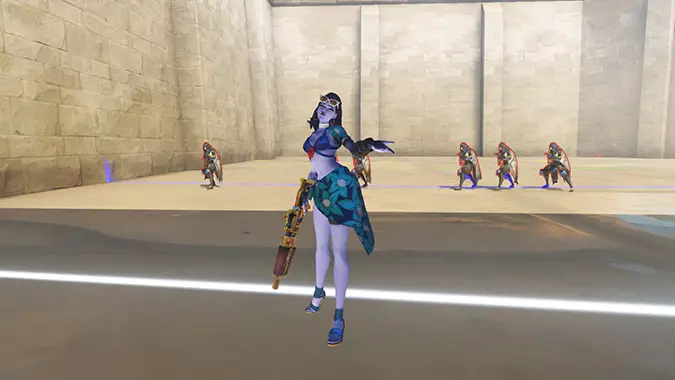 Overwatch's official Practice Range game mode is full of gigantic bots that barely move. It's not a good place to practice attacking the various heroes of the game while they jump and jolt around. Thankfully, we have Workshop modes to make up for it.
The latest aim trainer Workshop mode from PMAJellies takes a lot of the ideas they've put into their earlier versions and cleans them up for a more realistic exercise in aim.
The Workshop mode takes place in a big arena on the Havana map. You can spawn in any of the bots the game supports — like Ana, Zenyatta, and Soldier: 76. With the touch of a custom button on a nearby wall, you can make the bots do a variety of things. There's four game modes that see the bots strafe back and forth and spawn randomly to test your skills.
Otherwise, you can just practice shooting as different heroes to get a feel for their firing cadence. Hanzo in particular is a good choice. His arrows dip down after a certain amount of airtime. You can swap how far away the bots are to get a feel for the drop-off.
One of the biggest issues with the Practice Range is that the bots have huge hit-boxes. That means that when you're trying to practice getting headshots, you'll be praciticing against heads that are much bigger than real heroes. With a mode like this, you can get a sense of how hard or easy it is to shoot the real things.
It's funny to consider that the Practice Range is pretty terrible for one of the most simple ways to engage with the game. You'd think the game would be much better at presenting you with a way to practice outside of the regular Quick Play or Competitive modes. Of course those are always the best way to practice, not bots. Real players just don't move like AI do. But let's hope Blizzard notices how popular these modes are and implements an official version at some point.