Learn the actual range of Reinhardt's Earthshatter and other abilities you KNOW you avoided with this upcoming Overwatch Workshop mode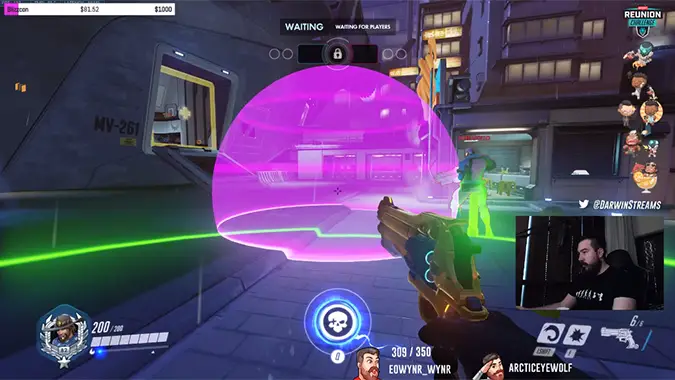 If you've been caught by a Reinhardt Earthshatter and thought you really shouldn't have, this Overwatch Workshop mode is probably for you.
Darwin is back once again with a growing list of Workshop modes that illustrate the radius and reach of certain abilities of like Reinhardt's Earthshatter. Essentially they managed to create a visual indicator for how long Earthshatter travels out from Reinhardt and where it actually stuns its targets. Although the range is officially 20 meters, the actual range is about 21 meters according to Darwin.
Another day another visualization.
Rein's Shatter today. Officially it's radius is 20m but it starts in front of him so actual effective radius is ~21m. The angle range is ~50° pic.twitter.com/pGppFxx72E

— Darwin 🇮🇪 (@DarwinStreams) June 28, 2019
Darwin is currently working on a tool that lets you do this with a ton of other abilities, like McCree's Flashbang and falloff damage range, and Orisa's Halt. Not only do these modes help people practice avoiding or learning to use these abilities, it also has a change of highlighting how the the game's info can be slightly off. We might even find that a certain ability is completely bugged. It seems like Blizzard had no idea that Brigitte's Rally armor was working incorrectly until Darwin figured out how to test it.
With the amount of heroes in the game now, it's important for people to be able to understand what's going on in a given match. Blizzard hasn't done a great job at improving the current tutorial mission. It only lets you play Soldier: 76 and it only teaches you about the fundamentals of how the game works. It doesn't teach you how to avoid a McCree so that he doesn't stun you, or how to get out of range of an Earthshatter.
The final Workshop mode will be incredibly helpful for both new and existing players. I've always wanted to know how big Junkrat's RIP Tire is and how the falloff damage works. It also seems like a lot of people don't know how big Genji's Deflect is and end up shooting themselves.
It's nice to see the community start to work together to understand the intricacies of Overwatch as the game gets more and more complex. It's no fun to jump into a game and not understand what happened to you. People like Darwin are making the game more accessible all around.