WoW
Jul 29, 2019 11:36 am CT
The world first race is over as Mythic Azshara falls to Method and, shortly thereafter, to Limit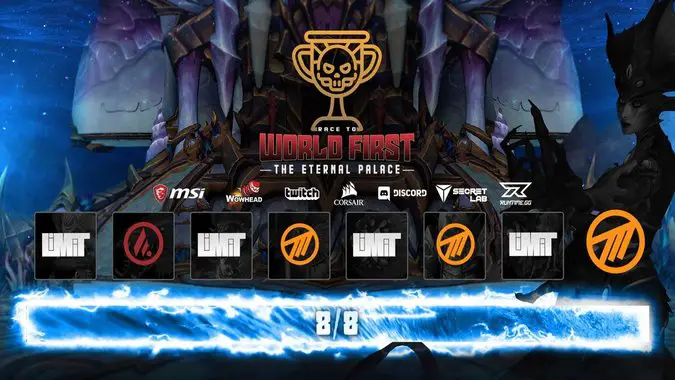 Mythic Queen Azshara has been defeated. Congratulations to Method for their victory! After 13 days and 358 wipes, Method on their 359th pull finally put an end to her machinations. This is the 13th world first that Method has gotten, with a win streak stretches as far back as the Will of the Emperor fight from Mogu'shan Vaults, in which time they've only missed one world first kill. They've put in the work and proven that they are the best raiders in all of World of Warcraft.
Limit also downed Azshara a few hours later to clinch the second-place standing. They'd even gone so far as to extend their raid time on Saturday to try and secure first place, but fatigue won out and they had to call it a night. Their final pull count on Azshara was 527.
Special mention should be given once again to their charity efforts on the stream. After the first week Method had managed to raise over $40,000 for the charity Save the Children. As of their Azshara kill that number grew to over $65,000! I'm glad that they've chosen to use their platform to help support charity and glad that the Warcraft community stepped up in such a major way. The patch 8.3 Mythic race has some big shoes to fill.

Fighting the Queen
This weekend saw explosive progress made on Queen Azshara. Blizzard applied some crucial hotfixes to her on Friday. Extending the time limit for the third phase of the encounter as well as changing the rate at which the Ancient Wards lost their energy. With these hotfixes, the beginning of the fight smoothed out enough that actual progress was possible on Phase 4 of her encounter, which lasts for the last 50% of her health.
The reason the Ancient Ward hotfix was so impactful has to do with the Drained Soul debuff. Raiders have to feed the Wards imprisoning N'zoth with their own energy, which causes them to gain Drained Soul. The debuff lasts for one minute, and each stack reduces your total health by 10%. In order to keep the wards powered on Mythic, you had to go up to seven stacks of the debuff, causing the slightest mistake to result in instant death. After the change, 5 stacks were enough to charge the wards.
This is why so few healers were needed for the fight: Method completed it with only two. Method and Limit both used a pair of Discipline Priests, while Limit added an extra Holy Paladin. Their healing cooldowns trend more to preventing damage instead of raw healing output, which is much more important when everyone has half as much health available. Having the extra damage that Discipline Priests contribute also helped with tight timers.

How does Azshara compare to other bosses?
Now that the water has calmed around Azshara, how does she compare to the bosses of past raids? The obvious first question is how hard was she compared to Kil'jaeden, one of the game's toughest bosses so far. Azshara was up for almost two full weeks — but still shy of Kil'jaeden's impressive 19 days unbeaten. Back in Legion, it took Method 654 wipes to get that kill. Tomb of Sargeras was an unforgiving raid tier, with Method chalking up more than a thousand wipes just between Kil'jaeden and the Avatar of Sargeras.
More recently, Jaina only took 346 attempts to defeat — and Method only had a total of 482 wipes for the entire Battle of Dazar'alor. Whereas Eternal Palace is sitting at 637 total. That's even with no wipes on the first three bosses of the raid!
What next?
I hope that in the next raid tier we get a super-secret Mythic only phase. It's been a while since we've had one of those — not since Mythic Gul'dan in Nighthold, with the big reveal that just when raiders thought they'd won, Sargeras was ready to take over Illidan's body and they had to defeat that too. Those mechanics are usually hidden, so and you got to see the raiders figuring it out in real-time. Those are my favorite fights, and they would only be more interesting now that raids are being live-streamed.
Method will be releasing their kill video on Thursday. But you can always watch the raw feed from their Twitch stream if you don't want to wait. That the world first races are being streamed is the best thing to come out of Battle for Azeroth's raid tiers. I can't wait to see what the next one holds.