Sigma ditches rocks for dodgeballs in this new Overwatch Workshop mode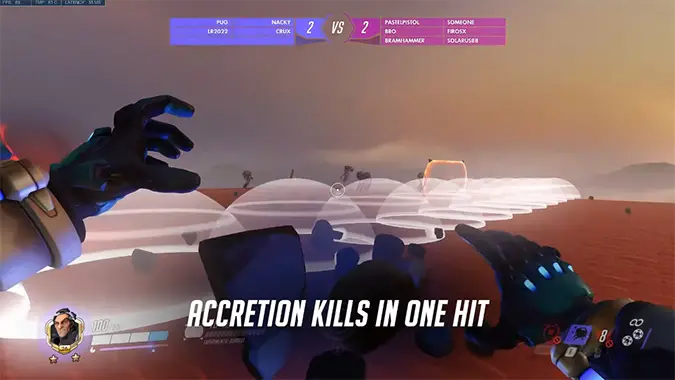 Overwatch's new hero Sigma throws rocks. Big rocks. But what if those rocks were thrown in a dodgeball arena? Workshop creator Pug has created that mode and it looks like a fun challenge.
Typically, you'd want use Sigma's Accretion ability to smash enemies with lots of damage and to interrupt any moves they might be using. In this Workshop mode, you're not trying to deal any specific amount of damage. You're simply trying to hit the opponents on the other side of the playing field with a big rock.
The neat thing about the mode is that it's a little more than the dodgeball you might have played in your gym class in school. Pug keeps his massive barrier and his ultimate Gravitic Flux. That means that you can have moments where you carefully shield yourself from incoming boulders, and you can pull everyone up into the air for easy shots on them. Both mechanics add a nice twist to the game that makes it seem a little more balanced than it otherwise would be.
The Sigma dodgeball mode makes me wonder how many other modes we could get based around signature abilities. We already have Pharah basketball, but what if we got a mode based on Orisa's Halt or Genji's Deflect. There's so much you can do with the Workshop creator tools that could enable modes that take a hero's ability to the ridiculous extreme.
The other compelling part about this mode is that if you don't play Sigma or want some more practice, it's a great tool to familiarize yourself with his Accretion ability. In the normal game, it has a long cooldown. But in this mode, you can use it frequently and get a feel for its build-up time. I always appreciate custom game modes that build muscle memory and knowledge that can help you in the actual game.
If you want to hit up Sigma dodgeball, you can enter the code QYEMJ into a custom game. Keep an eye on the video for any updates to it!