The Queue: Guys, I just had an incredible idea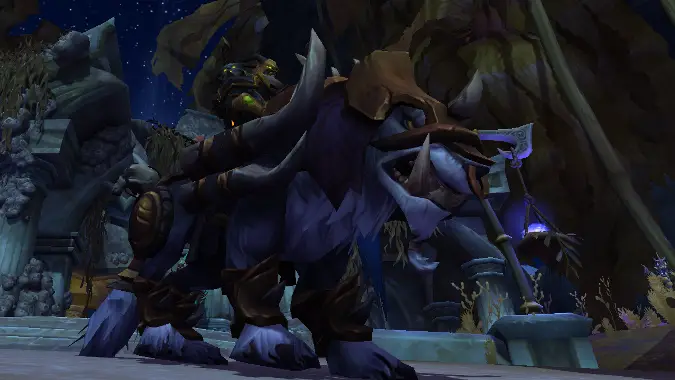 Like, just imagine this for a moment.  I know I've been anti-nostalgia in the past, but what if — just imagine this, cause it would be so weird — what if Blizzard just decided to go ahead and release vanilla World of Warcraft servers and let people play the game the way it was before The Burning Crusade came out?
I think this could actually work.
Anyway, until that happens, let's do that Queue we often do.
---
ZIGNEA IS ABSOLUTELY GOING TO BE ONE OF MANY MIND CONTROLLED PUPPETS OF A GIANT OOZE MONSTER.
Q4tQ: What (if anything) do you think is going to happen to those of us still wearing that cool talking headpiece N'zoth gifted us? What would you like to see happen? I'm really hoping they don't drop that particular thread.
I hope everyone who kept it becomes a minion of N'Zoth. I mean, you knew full well what you were doing when you kept that thing. Everyone who has it should get their brains ripped around and turned into the little dancing puppets of the Old Gods. That's what they signed up for.
---
PIDIA SETS UP AN INCREDIBLE DID SOMEONE SAY… JOKE
Q4TQ: Given Blizzard release of tons of new Classic servers it reminded me of a question relevant to the live game. Canonically what is up with Thunderfury? From what I remember we shaman "consume" Thunderfury in a ritual to revive Thunderaan and place him as Elemental Lord of Wind.
Lore wise, Thunderaan has Thunderfury again. When we reclaimed the blade and used it to return the Prince, he reclaimed it and he is using it right now.
---
KALCHEUS WANTS TO KNOW IF PERSONAL LOOT CHANGES ALL THE RULES
Q4tQ: When discussing new classes, we tend to focus on the armor type due to the current imbalance between leather and mail. But with personal loot being so predominant now, does it really matter?
This is a question I think about a lot, and the thing is, I have several reasons for thinking that it does in fact still matter. Even with Personal Loot, having only two classes wear mail means that there's less mail out there, and it also means that if your Shaman gets a piece of armor and no one else in the group wears mail (or the Hunter doesn't need it) then the piece is essentially wasted. Having more people who can use that piece is always a good idea, in my opinion.
Is it a huge deal? No, it's not really. You are right about Personal Loot making it a lot less important. But I think it would still be good to balance it out. We have four leather wearers, three plate wearers, three cloth wearers and only two classes that can wear mail. I think it would have been better to give Demon Hunters mail and whatever class happens next, if any, should absolutely get mail at this point.
---
SPENCER MORGAN THINGS I HAVEN'T HEARD ABOUT THIS NEWFANGLED 'WOW CLASSIC' THING
Q4tQ: regarding Rossi's indifference to Classic. Did anyone explain to him that Ashkandi will be a BiS weapon again once BWL drops?
Sure, and in order to get it, I'll need to level to 60, run a metric butt-ton (that's one thousand butts) of dungeons to get my Valor set and a Draconian Deflector, maybe work up a Fire Resist set to run MC and Onyxia, make sure to find a 40 player raid guild to run those raids weekly (and remember, around 26 pieces of loot will drop for a 40 player raid) until Blizzard finally puts Blackwing Lair on the schedule and then I'll need to clear that over and over and over again until we have Nefarian on farm.
When I played originally, we did exactly that, killed Nefarian easily 40 times. He dropped Ashkandi once and I didn't get it. I eventually got a Sulfuras instead, and even then I only got it because one of our healing Druids deliberately outbid the Paladin who would have got it because he thought it was bullshit that the Paladins always took all the 2h weapons when they never used them in raids while I was a 2h Slam Fury Warrior and I'd use it every time we raided save for bosses I'd help tank.
Seriously, why would I want to do that again? That was like a solid two years of my life. I literally played WoW every single day for hours and hours every single day. I have things to do nowadays. I write, I even released an audiobook this month. I DM D&D games for people. I do not have the time for six to eight hours of WoW every single day. And that's what it took to be a raider back then. No thanks.
I sincerely hope WoW Classic is fun for everyone who wants to play it. I played it and thought it was surprisingly fun, but I'm not committing to it. I don't have the room in my gaming life for it. It's less indifference, and more self preservation.
And yes, I heard that Ashkandi is a server. I think that's really cool. I'm still not going to play it.
---
BRAINSTRAIN AND I CAME SO CLOSE TO AGREEING AND THEN THEY PULLED THAT FOOTBALL OUT FROM UNDER MY FOOT
I do really feel like players who don't think this is a good expansion simply haven't gotten to see these really amazing moments, which in some cases are locked behind long quest chains and mythic dungeons and thus don't always reach everyone. It's too bad, because as much as this expansion makes me anxious at times, it really is amazingly well done and that moment with Jaina and Catherine is one of my favorites. Jaina has really grown and changed this expansion and I like how she's taken the older Jaina's optimism and desire for peace and tempered it with hard won experience, while admitting to her actions in the past and being willing to defend or accept them.
But man, I love my Kor'kron War Wolf. I think that's an amazing model. I'm afraid we must part ways here in the forest of being wrong about cool mounts, where you will remain forever while I ride away on my awesome wolf.
---
RANDOMGUY67 ASKS ME ABOUT DINOSAUR STAMPS
Q4TQ: is Rossi tomorrow? If so, what is his reaction to the US Post Office issuing dinosaur Forever stamps?
I live in Canada. We had a really awesome set of dinosaur stamps last year.
I think it's nice that you guys are getting dino stamps, but it doesn't move me much. I'm up here.
Okay, that's the Queue for today. Remember to ask Anne lots of questions and in general just be really nice to each other, let each other enjoy whatever version of WoW you're playing, and go ahead and buy my books. I haven't asked y'all to do that in a long while and I am still steadily going blind so I could use the help.