Overwatch is officially coming to the Switch on October 15, 2019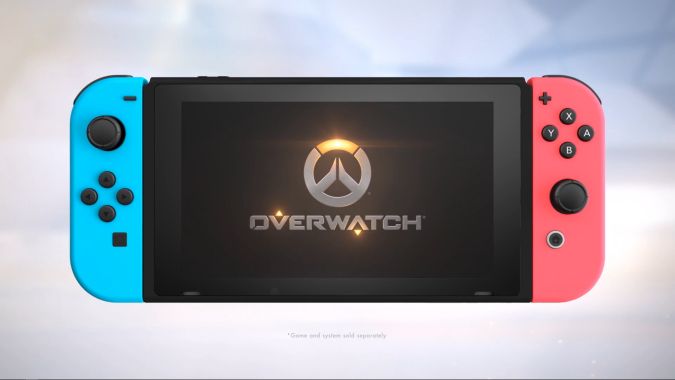 While reports this morning made an Overwatch-on-Switch announcement feel imminent, we didn't actually have official confirmation of those leaks… until now. Confirmed via today's Nintendo Direct (and the Overwatch Twitter account), Blizzard's popular shooter is arriving on the Nintendo Switch on October 15.
The world needs heroes.

The fight for the future arrives on Nintendo Switch October 15! pic.twitter.com/Bbf5xhaRs6

— Overwatch (@PlayOverwatch) September 4, 2019
In addition to being a portable freaking version of Overwatch, the game will feature unique gyroscopic controls for certain heroes — Junkrat's R.I.P. Tire ultimate was shown, as was sniping via Widowmaker — and will also reward anyone who buys the game before December 31, 2019 with a free Golden Loot Box. Moreover, pre-purchasing is available today and comes with the Noire Widowmaker skin and 3 months of Nintendo Switch online — oh, and you'll be able to pre-download the game when you pre-purchase!
Overwatch for the Switch will cost $39.99 USD and comes in both physical and digital versions. We're still awaiting info on what the framerate cap will be.
Original article continues below.
Despite a couple rumors and potential merch deals with Overwatch and the Nintendo Switch, I wasn't expecting much Blizzard news out of tonight's Nintendo Direct presentation. More Pokémon, maybe some new Switch Lite news, but Blizzard?
Earlier today, Kotaku broke the news that multiple retailers have leaked the details and that tonight's Nintendo Direct would feature the announcement of Overwatch coming to the Switch, and soon — not Soon™️, actually soon. Kotaku conjectured that this would release roughly October 16 based on a number of factors including a separate leak out of Europe, though we'll likely know the date for certain in just a few hours. If true, this seems tailor-made for people to charge up their Switches and bring them to the party at BlizzCon, although you'll still have to have a stable internet connection in order to play, and the wifi on the convention floor may be a bit spotty.
Since it's a leak and not a full press release until the Direct panel, for now we have to fill in a few blanks, mostly relying on conjecture. It's unlikely that we'll see cross-play, since there still isn't cross-play between the platforms the FPS is already on (i.e., you can't play with your friends on Xbox if you only have the game for PS4). However, this opens the door for other titles to make their way to the platform in the future, especially since Diablo 3 is already on Switch. Though we've been hearing all along that Diablo Immortal is going to be on mobile only, it also seems like a relatively easy task to port a mobile game to the Switch. Perhaps the upcoming remastered edition of Warcraft 3 would make a good addition, too. Remastered editions of the classic retro games like The Lost Vikings or Rock N' Roll Racing would be a great fit for the Switch as well.
If you want to see the official announcement and fill in the rest of the blanks, tonight's Nintendo Direct begins at 5 p.m. CST.