WoW Classic realms are gradually cutting layers — but is it a good idea?
You may not know this, but WoW Classic has a thing called layers. Layers are a means by which a server can be effectively stratified, so that there can be a huge amount of players on a single realm, but those players will only run into a small subgroup of the total realm population. There's more to it, but that's the bare-bones explanation — the realm is divided into layers, and player A is with 1,000 or so other players on layer A, while player B is with the next 1,000 or so players on layer B. That way, the realms can accommodate the huge influx of players WoW Classic has seen since launch.
That's coming to an end for some realms soon, and all realms by Phase 2. We're two months into WoW Classic now, and enough players have jumped in, tried it out, and decided whether or not it's for them that we're no longer seeing so many massive queues, nor is layering needed to keep many realms stable. Quite a few realms only have a single layer now, and as mentioned, the goal is to turn layering off entirely by Phase 2, because layering did its job. It allowed realms to go significantly over pop without having to turn on more servers, so that now that people are quitting WoW Classic or are playing it less, those servers decline to simply having high to normal server populations.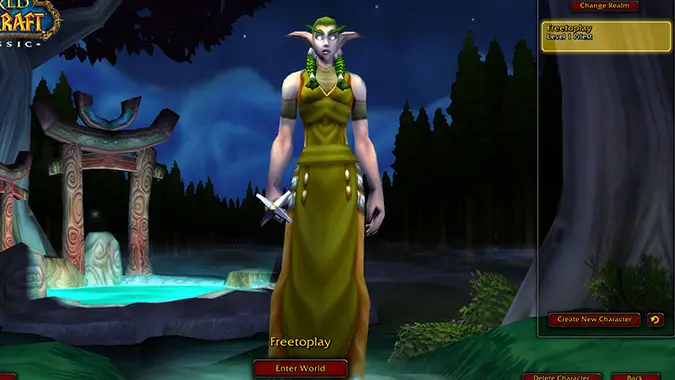 Is this a good idea? Yes!
One point that's made is that layering is something they wanted gone before world bosses like Azuregos and Kazzak start appearing, because of the issues with there being a different Kazzak on different layers. By the time the world bosses are out and about in Phase 2, they want there to only be one of them up at a time. It makes sense to me. Especially if the population of the formerly overcrowded realms has dropped enough that there aren't huge queues and there's no real need for layering, why would you want to keep using it and turning realms with reasonable populations into ghost towns?
Now, of course, we could see populations come roaring back when Phase 2 of WoW Classic launches. I don't think they will, but I didn't foresee the sheer volume of players who'd play WoW Classic at all. So I'm willing to admit when I'm wrong, and wow, I was wrong there. Perhaps we'll see a lot of returning players for Phase 2, and it will turn out that Blizzard turned off layering too soon. My thinking is, if that happens, they can always turn it back on again. Turning it off now lets them see how the realms are shaking out without it, and it removes problems like layering exploits in dungeons.
Layering is a solution to a specific problem — it's a means toward coping with unprecedented player demand. When that demand no longer exists, and the servers they have are more than enough to deal with the players we have, there's absolutely no reason to keep it. It becomes superfluous and even detrimental, with layering exploits allowing for item farming and duping that can ruin server economies. There are certainly enough servers in WoW Classic to meet the demand, or so it seems — so as long as that's the case, layering serves no purpose and realms should be set to a single layer so that players can get as close to a real vanilla flavored World of Warcraft experience as possible. After all, if realms were overcrowded back in 2004 to 2006, we just suffered. We didn't have layering to keep us from fighting 10,000 other players for a spot in a login queue.
Turn it off, I say. Let WoW Classic be as classic as it can be.