If you could design a World of Warcraft tie-in game, what would it be?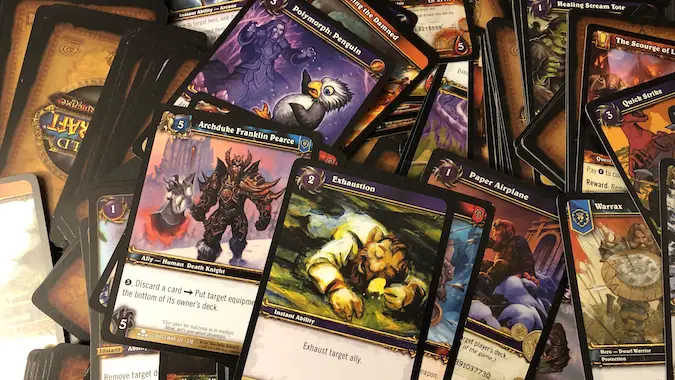 Recently, while cleaning, I found my collection of cards from the World of Warcraft Trading Card Game. Briefly — for the few of you who don't recognize this game — it was a physical card game similar to Magic: The Gathering but based on World of Warcraft. It was initially released on October 25, 2006 and ended at the end of 2013, mostly replaced by Hearthstone.
The allure of the game was that every booster pack contained a loot card. These cards — with a scratch off section — awarded in-game items including the Spectral Tiger mount, battle pets, and vanity items such as the Path of Cenarius, which put flowers under your feet as you moved around.
I can't quite wrap my head around these kinds of card games and how they work, so despite having the cards I didn't play this game. I don't play Hearthstone for this reason, either. Those of you who play Hearthstone and Magic have my admiration. No, I bought the packs solely for the free loot. At one point, I had three Paths of Cenarius.
What I did play was the World of Warcraft Trivial Pursuit game. Released in 2013, the box contains a smaller version of the popular Trivial Pursuit game. It's a lot easier to tote around and pull out to play. Categories are Geography, Player Characters, Lore, Loot, Villains, and Encounters. Some questions are ridiculously easy and some will provoke discussion with, "Wait…that can't be the right answer because of what we know now." Ah, the fluidity of WoW lore.
There is also a World of Warcraft Monopoly game. It was released in May of 2014 and features well-known places in the game. Stormwind is Park Place and Orgrimmar is Boardwalk. The tokens are a murloc, a warhammer, a hearthstone, a mechagnome, a boot, and a core hound pup. I'm not a fan of Monopoly in general so I don't own this but I do own the Trivial Pursuit edition.
As I'm trying to decide what to do with my trading cards, it seems to me Blizzard has abandoned the idea of stand-alone game tie-ins. That's probably a good idea. Concentrating on what they do best benefits all of us.
I'm wondering, however, how many of you purchased these games and actually played them? Did you find them fun? If Blizzard asked you what kind of stand-alone game tie-in you'd design, what would you like to see? What about a World of Warcraft version of Settlers of Catan or World of Warcraft Uno? The sky's the limit here. What would you add to your gaming shelf?