With Dire Maul's launch, Warlock Dreadsteed and Paladin Charger epic mounts are now available in WoW Classic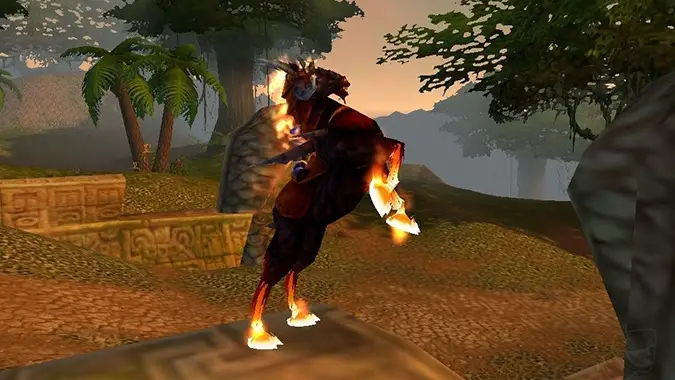 With the release of Dire Maul for WoW Classic, Warlocks and Paladins finally have the ability to grab their epic, 100% speed mounts. Both the Dreadsteed and the Charger required the release of the classic dungeon to complete their quest lines. Thankfully, we didn't have to wait until the release of Phase 2 as originally announced.
If you don't already know, Warlock and Paladins get access to their epic mounts for cheaper than the rest of the classes in the game. It might not sound like much if you play the modern game, but back in WoW Classic, mounts were expensive. We're talking 1,000 gold in a game where it takes hours to earn even a single piece of gold early on. Every bit of savings you can do is a big deal.
They're fancy looking mounts, too. The Warlock's Dreadsteed is an elaboration on the Felsteed they get (for free, I might add) at level 40. It has hooves that are on fire and a lot of horns. If you're playing a Warlock in Classic, you need this mount. And for Paladins, you get an armored horse that looks fittingly regal for the Paladin style.
To get these mounts, you have to spend some time traveling the world, gathering materials, spending gold, and fighting off powerful enemies with groups. You don't exactly get the mounts for free — you have to work for them. But you do still save gold in the end and get a unique-looking mount, to boot!
The Dreadsteed quest sends you to Winterspring and Felwood for some sleuthing and conversations with demons, and it ends with a battle against hordes of enemies in Dire Maul West, which itself requires a key from Dire Maul East. The final fight requires multiple players and some tricky plate-spinning tactics to keep a ritual going.
The Charger quest, on the other hand, is just as lengthy but sends you to Eastern Plaguelands, Dire Maul, and then Scholomance. Similarly, you have to collect some materials and then hop into Dire Maul West to summon a horse spirit that will let you complete a quest. Once done, you can go into Scholomance to complete a big battle against spirits to finally get yourself the mount.
Both mounts have useful guides on Wowhead if you want to know how to most efficiently earn them. Whether or not you have the ability to do so yet is another challenge altogether. These are the quests that sit in the memory of so many players who spent time in the original game. It's fun to see people able to relive those moments, and it gives new players an exciting goal to work toward. It's also great impetus to start an alt character or finally choose a main. Pick the class with the nicest horse and show it off in all the upcoming raids!