The Queue: This is fine.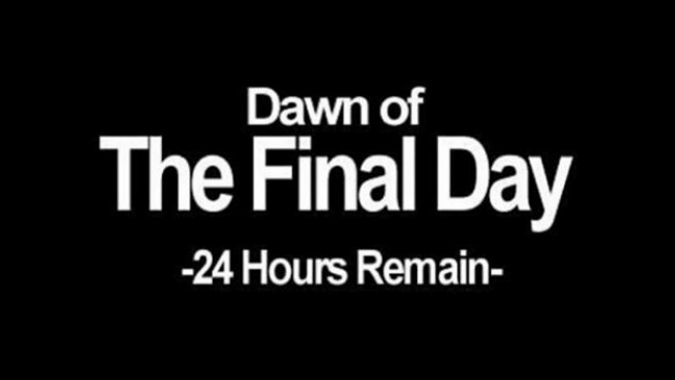 Hi there, welcome to the BlizzCon hype train. I would be your conductor, but I'm afraid I need to go drive to an abandoned parking lot and let loose a long scream for about 20 minutes, then drive back to my house, breathless, and try to pretend to be a functional adult before going trick or treating all night in the rain.
I'm not sure who decided to schedule BlizzCon for the day after Halloween this year, but they are not my favorite person right now.
---
PIDIA KNOWS HOW TO GET A HYPE TRAIN ROLLING!
So do they finally announce the music today?
I streamed til 1 a.m. yesterday, and then this morning I was woken up at roughly 5:30 by a little boy super psyched to be a train conductor and "trickertree." As a result he's incredibly cranky and I'm so tired I'm nauseous, so I have to try to get him to take a nap (by also lying down in bed with him).
When this announcement goes live today, I'm almost certainly sleeping. You're welcome. Please don't @ me on Discord. Seriously. Yes, even if it's someone amazing.
---
RAZWICK JUST TUNES IN TO SEE MY WINGED EYELINER
QftQ: On a scale of 1-10, how necessary is a player-cam to you, personally, if/when you watch a stream? Just curious.
It can depend, but if I'm browsing it takes some really, really solid informational content to overcome not having a webcam. The thing is, a webcam is almost a hack for being more engaging to watch, especially if you're kind of new and awkward and don't know how to patter well. A camera to look at and engage with makes almost anyone more compelling to watch. Speaking of awkward, I actually put googly eyes on mine so I look at it more.
And yes, that goes even if you have deep-seeded hangups about your physical appearance. I will say that this kinda messed with my head a little when I started streaming with a webcam, because nobody made fun of my untameable hair or weird smile or acne or — well, it's probably not a great idea to give the internet any extra ammo.
---
VALENCEMAGI JUST WANTS TO MAKE THE NOSE A TINY, TINY BIT LONGER, HANG ON…
Q4tQ: I remember when Saints Row 4 was coming out, and they hyped it up by releasing the stand-along character creator for free, that let you play around with the options and make/save characters that you could use if you bought the game.
I feel like more games should do that.
Yes. I can't tell you how much time I've spent in Bethesda games creating my characters, even before they were as granular as they are now. It doesn't just feed the hype for me, it's a full-blown activity onto itself.
However, that said, I sincerely hope companies don't start doing this because I have so many games in my backlog as it is.
---
SOEROAH HAS SOMETHING AGAINST DRESSING UP ANIMALS
Did the statues in the front of Stormwind always have witches hats during Hallow's End? I know most to all of these characters are alive now but that seems kinda disrespectful, lol
Even Alleria's hawk..
They've had them for a very long time, maybe since before the Cataclysm revamp, but certainly very close afterwards.
I don't think it's disrespectful. It's irreverent, sure, but I feel like Khadgar in particular would find it hilarious. Alternately, Khadgar, the ARCHMAGE — thank you very much — might be extremely offended that he was given a simple witch's hat, and the rest of the people represented in the statues would find it hilarious that he was offended by it. Either way, it's just a fun way to celebrate the season.
---
RESHY POO WANTS TO BURN A BRIDGE, OR SOMETHING ELSE.
Funny thought, on the average server there are probably more active Night Elf player characters than the actual Night Elf population. QftQ – Should Night Elves be disabled in character-creation as a playable race option?
As was pointed out in the comments, even though Teldrassil was destroyed the player population doesn't exactly reflect the face of the populations we're given to believe in lore. How many Goblins do you think made it off that little island before it exploded?
In fact I'd say the only races that haven't had something happen recently to decimate their population — or just started at a disadvantage — are Humans, Dwarves, Pandaren, and a couple of the Allied races, and most of them have had some pretty serious issues lately. Heck, the only race which was doing extremely well until very recently was the Undead. Azeroth is kind of a dangerous mess.
---
ROWSDOWA KNOWS TRANSMOG IS ALL I CARE ABOUT.
What do you think the chances are of the Orc heritage armor being something like Saurfang's armor reforged in his memory?
I'd say 50/50, Saurfang vs reclaiming the Tusks of Mannoroth. Maybe both.
---
GALDWYNN WANTS MECHAEVERYTHING
Q4tQ: With Mechagnomes offering "upgrades" do you think we'll see NPCs of the other races with mechanical prosthetics?
In practical in-game terms we probably won't see more models with mechanical prosthetics. Though the pseudo-Victorian vibe of the Gilneans is pretty much made for steampunk, mechanical augmentation is a deeply Gnomish thing.
That said, in terms of RP, I'd say virtually anyone in game should be able to have one. Even if a being isn't particularly mechanically inclined themselves I'd assume there's a whole slew of Mechagnomish "doctors" willing and ready to perform tune-ups and the like for any meatbag willing to sign a waiver or thirty.
---
GALDWYNN ASKS THE REAL QUESTION
I'm going grocery shopping after work. What Blizzcon snacks should I get?
My go-to snack for stress eating is peanut M&M's. They're tasty, they're a mix of textures, they hit nearly every flavor note (could do with more salty). I also eat them in a weird, specific way which is perfect for stress eating. I crack open the chocolate shell with my teeth and eat that first, and then eat the peanut. It's like in-shell sunflower seeds without the mess.
I may have already run through an entire bag. At least they'll all be on sale tomorrow — when I won't have time to go pick any up.