Where's your Warcraft 3 Reforged beta access? Check the Battle.net launcher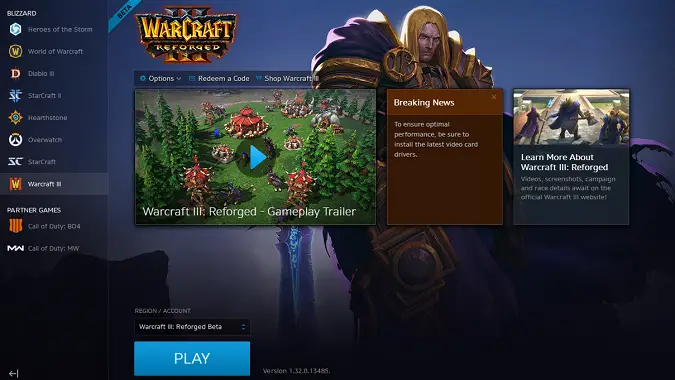 Are you in the lucky pool of people that already received your invitation to the Warcraft 3 Reforged beta? No? Same here.
The lucky first group to get access are those players who pre-purchased the WC3R Spoils of War edition, according to the official beta announcement post. Unfortunately, there's not a clear answer to when the actual invitation email will arrive — some people have already gotten theirs, and some people haven't. So how can you access the beta as soon as possible while avoiding email scams with fake keys, when no direct opt-in method appears in the Battle.net account beta window?
Instead of having a stare-down with your inbox, check your launcher. The WC3R tab will give you a dropdown to switch to the beta client like all other Blizzard properties. The install clocks in around 12 GB for Windows, but Blizzard has not posted updated system requirements to confirm a final space requirement. Be aware: posts on the forums indicated the dropdown is not always showing up, even with an email invite, so this is not a foolproof roll-out. If you don't see anything on your first check, close out your Battle.et client and re-launch. Some players have reported needing to restart the launcher and log out and back in before having the dropdown show up.
Still not seeing it? It may be time to confront your inbox again.
There's hope even if you're not in the beta yet. Invitations are rolling out over the coming weeks, with developer Pete Stilwell confirming earlier this morning that the rate would be "scaling aggressively." However, that time window is coming dangerously close to BlizzCon territory. Why not celebrate the 25-year Warcraft anniversary with the original Warcraft 3? Reign of Chaos and Frozen Throne are available to everyone who pre-purchased WC3R. Both are available to download under your Battle.Net account downloads (at https://battle.net/account/download/, under "Classic Games"). Install the originals and square off against Arthas in all his pixelated Scholomance glory, while brainstorming on the age-old question for the beta: Orcs, or Humans?