Overwatch 2 adds Push game mode with Toronto map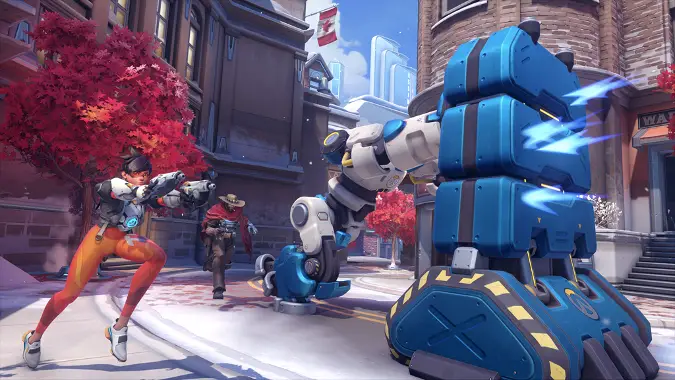 Overwatch 2, announced at BlizzCon 2019, will be adding a new gameplay mode to its spread of PVP map types. Joining the game's current Assault, Escort, and Control game modes is the new Push mode, which will be represented by the new map set in Toronto.
The Push map takes elements from both Control and Escort maps. The two opposing teams fight to control an objective point — a robot — and when the robot is under their control, it marches down that team's path through the map. As the robot proceeds, it pushes a barricade marker along with it. If the other team then takes control of the robot, it turns around, and begins marching the other way, pushing another barricade.
Whichever team manages to push the barricade to the end of their path, or pushes it furthest within the time limit, wins. You can catch a glimpse of it in the Overwatch 2 gameplay trailer:
During the Overwatch: What's Next panel where this map was discussed, Jeff Kaplan made a point to state the Toronto map is symmetrical — regardless of which team you're on, or which side of the map you start, the shape of the path is identical. The other game modes have typically employed asymmetrical terrain and paths since one team is designated as the attacker, and one as the defender. On Push maps, both teams are trying to accomplish the same thing.
This Push mechanic seems to be a game mode born from one of the tiebreaker mechanics Overwatch has used in its long, storied tale of balance changes. In the event of a tie on an Escort map, the winner would be chosen based on which team had managed to push the payload the furthest — or fastest — on their turn as attackers. Now, in the Push mode, the winner will be determined the same way. The teams are just trying to do it simultaneously, rather than taking turns — not only trying to push the objective, but trying to maintain control of it so their opponents can't push it.